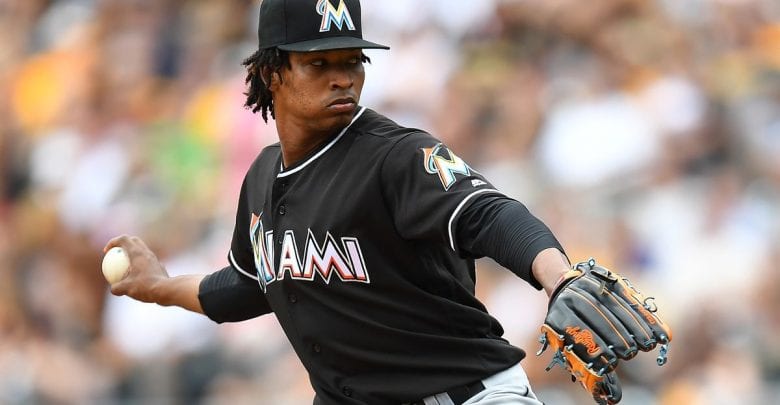 The 8/28 Free MLB Pick is a matchup between the top two teams in the NL East as the Miami Marlins take on the Nationals in Washington. The Nationals find themselves with a considerable lead over Miami sitting atop the division by 12 games. Even so, the game has substantial meaning for the Marlins as they trail in the wild card race by 4.5 games.
Miami has found the perfect time to play their best ball of the season, going 8-2 over their last 10 to climb into consideration for the postseason. They've been riding Giancarlo Stanton to this position as he hit his 50th HR of the season yesterday in a win over the Padres. Things won't come easy tonight however as Washington pitcher Max Scherzer makes his return to the mound in a Cy Young-likely season.
8/28 Free MLB Pick Pitching Matchup
The Marlins send their own ace to the mound tonight as Jose Urena (12-5) takes the bump. The third year right-hander has notched W's in 5 of his last 6 decisions and has allowed 1ER or less in 4 of his last 7 starts. He last started against Washington on July 31st and took a hard luck, 0-1 loss despite allowing just 1ER on 3 hits pitching 8 innings. Nationals batters have faced Urena for a combined 40 plate appearances and are batting just .135 in those at bats.
.@Giancarlo818 is the 6th player to reach 50 HR by the end of August (Bonds, Luis Gonzalez, Maris, McGwire, Sosa). https://t.co/fwKIBJyRT4 pic.twitter.com/KJxLPPGd9m

— MLB Stat of the Day (@MLBStatoftheDay) August 27, 2017
Max Scherzer (12-5) returns to the mound after missing his last start with neck inflammation. When healthy he's been his usual dominant self posting a measly 2.25ERA on the year with 220K in just 160IP. That being said, Scherzer has been anything but untouchable lately, losing 2 of his last 5 starts. Marlins batters have familiarity with Scherzer tallying 249 total plate appearances and their combined average is a respectable-ish .246. Outfielder Christian Yelich has hit Scherzer well, with hitting .348 with 2HR and a 3B in 25 plate appearances. Stanton also has 2HR in just 15 career times facing the Washington ace.
FOX Sports – https://t.co/LxocAPRklJ – Preview Marlins draw Max Scherzer for Game 1 of 3-game series in Washington]]>

— MLB NewzBot (@MLBNewzBot) August 28, 2017
8/28 Free MLB Pick Betting Matchup
As expected, Washington are huge favorites as they are every time Scherzer takes the mound. Tonight's ML opened at -215 and has stayed relatively steady where it stands now at the Nationals -210 at Gt Bets Sportsbook. The "under" would seem like a great play but the total is listed at only 7.5 with two great pitchers on the hill.
Roughly 65% of the betting public are taking Washington at home but that could be an inflated number. Scherzer is returning after missing a start and is pitching on 15 days of rest – which pitchers will tell you throws them off their rhythm. Marlins pitcher Urena has been great lately even though Fangraphs is stingy with tonight's projections. The combination of pitching and the bats of Yelich and Stanton should be enough to carry Miami to their 8th win in 9 games – even with Scherzer on the mound. Plus, there's some pretty good value in the Miami line tonight.
Pick – Miami +190