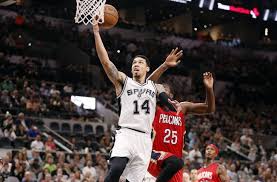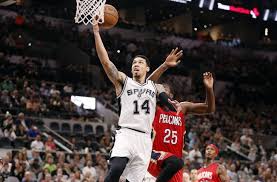 Our New Orleans Pelicans play San Antonio Spurs free NBA pick is our first of the 2016-17 season. With a 9-19 mark, the Pelicans are 12th in the Western Conference. Their average PF stand at 102.6. Against that is a PA of 107.1 for a differential of -4.5. They are 3-7 for their last 10 and 3-10 on the road.
The Spurs, who are 21-5, are in second place in the NBA West. They've won three straight and are 8-2 for their last 10 games. The Spurs are averaging 103.7 PPG while allowing opponents 97.7 PPG. Their differential stands at +6.0. They are 11.5-point favorites, which will be played Sunday, Dec. 18 at 7:05 p.m. ET. San Antonio has a home record of 7-4.
New Orleans Pelicans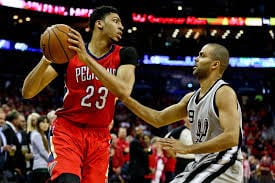 The Pelicans come to San Antonio with two of their top players, PF Anthony Davis and PG Tim Frazier, out. Davis leads the club in scoring, field goal percentage, rebounds, steals and blocks and Frazier in assists and three-point percentage. Also out are SFs Dante Cunningham and Solomon Hill. Both of whom normally put in quite a few minutes.
There's really no one to make up for the 30.2 PPG that Davis averages. Terence Jones (10.4 PPG, .438 FG%, 2,2 RPG) will see time at the power position and Jrue Holiday (15.3 PPG, 6.0 APG) will certainly see action at PG. But we expect New Orleans will have a tough time breaking 100 points tonight and stopping the Spurs from scoring 110 or more.
San Antonio Spurs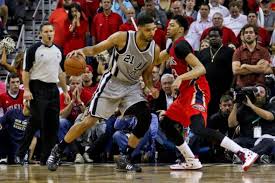 San Antonio comes to this game healthy. It is a big night, as they will retire Tim Duncan's number after the game in a massive ceremony. The Spurs need to stay focused on the task at hand, and not let the ceremony affect their play,
The Spurs have four guys scoring in double digits with SF Kawhi Leonard scoring a team best 24.5 PPG and PF LaMarcus Aldrige hitting .478 from three-point land as well as posting a .473 field goal mark. Center Pau Gasol is making .504 of his shots, as well as .455 of his threes. PGs. Patti Mills and Tony Parker are also lights out shooters. Together Gasol, Aldridge, and Leonard are grabbing 20 RPG.
New Orleans Pelicans Play San Antonio Spurs Free NBA Pick
Our New Orleans Pelicans play San Antonio Spurs free NBA pick like the Spurs at -11.5. San Antonio comes to this game healthy and certainly wanting to put on a good show for their teammate Duncan. The Pelicans are short on key players and have been struggling quite a bit.
New Orleans Pelicans Play San Antonio Spurs Free NBA Pick: San Antonio at -11.5