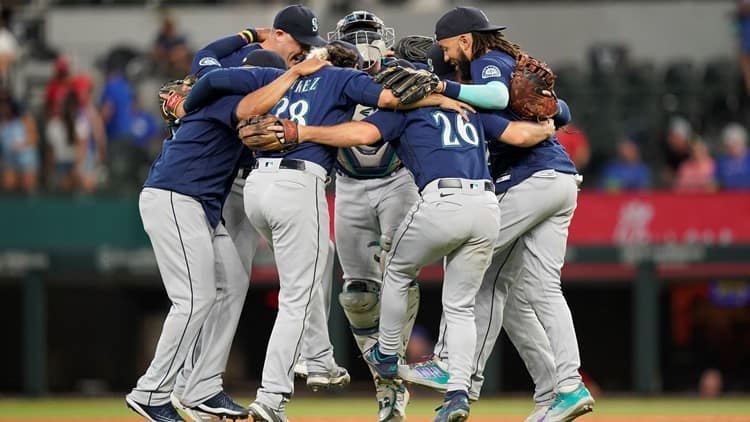 The prices in the July 27th Rangers at Mariners betting matchup seem a bit off, with Texas as a -116 favorite despite Seattle going for the three game sweep. Is this game trap city considering that the M's are 16-4 in July while Texas has lost four of their last five?
Just 46% of the public are on the Mariners despite what looks like a pretty heavy mismatch. The Rangers have lost 8 of their last 9 division games, while Seattle is 24-6 in their last 30. The Mariners are -102 for Wednesday's series finale, can they complete the sweep?
Does Gray Give Texas the Edge?
The Rangers have dropped to 2-10 against Seattle this season with losses the last two nights. Texas has gone just 7-15 in July and have also dropped four of their last five against left-hand starters.
Despite seemingly everything working against Texas, they are favored slightly in the July 27th Rangers at Mariners betting matchup. That's a testament to the groove that Jon Gray (7-4, 3.48 ERA) is in as he's picked up the win in six of his last seven starts. Gray hasn't allowed a run in his last two starts (13.0 IP) but all four of his losses have come on the road this season.
Texas had their chances on Tuesday night, rallying from a 2-0 deficit with 4 runs in the last 3 innings, but Seattle got two in the bottom of the 9th to steal the victory. Monday's game was also close, but the Rangers suffered another defeat 4-3.
Seattle Finding a Way
Aside from a three game sweep at home against the Astros over the weekend the Mariners have only lost once this month and it came way back on July 1st. The last two wins over the Rangers may not have been the prettiest, 5-4 and 4-3, but it's two more in the W column as the Mariners try to make up an 11 game deficit on the Astros in the AL West.
Julio Rodriguez led off the bottom of the 1st inning on Tuesday night with his 16th HR of the season, making his first appearance since the All-Star game while nursing a sore wrist. Cal Raleigh also had a home run while Ty France went deep Tuesday as part of a 3-3 night.
The reason Seattle is not another big favorite on Wednesday is because Marco Gonzales (5-10, 3.74 ERA) has been rocked in his last two starts, giving up 10 ER and 20 hits over 11.2 IP. One of those outings was against these Rangers in his last outing before the All-Star break, but Gonzales was bailed out by his offense in a 6-5 win.
Free July 27th Rangers at Mariners Betting
Seattle scored 4 runs against Gray in 5.0 IP in their lone meeting this season, but that was also way back in his second start of the season. Gray is dialed in as of late – the opposite of what Gonzales has been doing in his last two outings. With Texas being favored even though Seattle is going for the sweep, that says the Rangers get this one.
Free Pick: Rangers -116