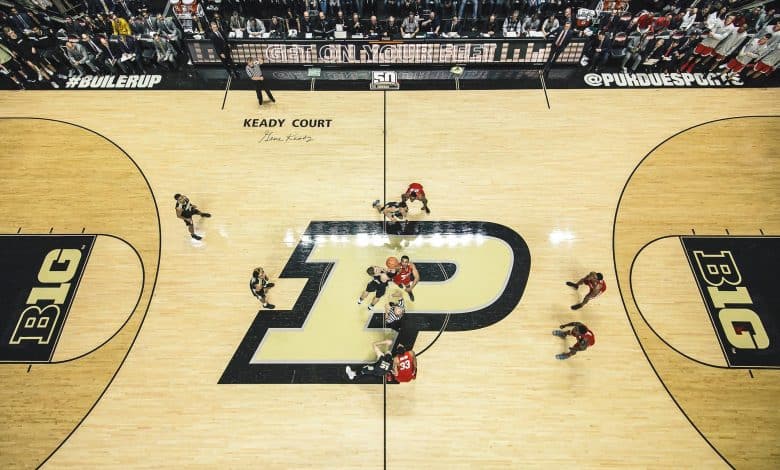 Big Ten play gets into full gear in the January 3rd Wisconsin at Purdue betting matchup. The #3 Boilermakers (12-1) are huge 12.5 favorites on Monday night against a good #23 ranked Badgers squad. Part of that has to do with Purdue going 42-4 in their program history against Wisconsin at Mackey Arena, but it's also because the Boilermakers are really, really good this season.
The Badgers got red hot at the end of November winning the Maui Invitational, but they've started off Big Ten play 1-1 with the loss coming at Ohio State 73-55 as +5 point underdogs. Purdue has a 77-70 win over Iowa but lost on a buzzer beater against Purdue in their only two Big Ten game this year, with an 0-2 ATS conference mark. Can the Boilermakers beat another huge number against Wisconsin?
Badgers Getting Davis Back
Wisconsin and Purdue have a recent common opponent, as the Boilermakers recently dominated Nicholls State 104-90 on December 29th, while the Badgers beat the Colonels 71-68 on December 15th as -17 point favorites. That was a much closer game than expected for UW, but they were also playing without leading scorer Johnny Davis who was out with a non-COVID illness.
Davis returned on Wednesday with 20 points and 11 rebounds, but it was another much closer game than expected with the Badgers outlasting Illinois State 89-85 again as -17 point favorites. It's not a huge surprise that UW struggled though, as they were playing their first game in two weeks due to COVID cancellations.
The Badgers should be in a better rhythm in the January 3rd Wisconsin at Purdue betting matchup but oddsmakers aren't giving Greg Gard's team much of a chance as +12.5 underdogs at their own personal house of horrors Mackey Arena where they lost 73-69 last season and where UW hasn't won since 2014.
Purdue Back on Track
The Boilermakers have rebounded from their heartbreaking 70-68 loss to Rutgers on a last-second three pointer from Ron Harper, Jr. as they have won their last four. The defeat to the Scarlet Knights is the only blemish on Purdue's roster this season, which knocked them from the #1 spot in the top 25.
Matt Painter is eager to get back to Big Ten play and get the 2022 calendar year underway. Purdue is also probably glad to see the quality of competition improve a bit after being a 39-point favorite over Incarnate Word and -29 in Wednesday's win over Nicholls State.
Purdue is one of the deepest teams in the country, with four players averaging at least 11.5 points per game. The Boilermakers are also huge on the interior with 7'4″ Zach Edey and 6'10", 265 pound Trevion Williams which is an area to exploit on the Badgers. Wisconsin usually goes with a smaller lineup, so it will be interesting to see how Gard draws this one up.
Free January 3rd Wisconsin at Purdue Betting Preview
Purdue has failed to cover a -14.5 point spread in a 77-70 win over Iowa and lost outright to Rutgers as -13.5 favorites. That's why people should be a little leery about laying the huge number on the Boilermakers. Wisconsin is a well coached team, and although they rarely get an outright win at Mackey Arena, that's still a gigantic +12.5 point spread for UW.
Badgers 66 – Purdue 74
Free Pick: Badgers +12.5