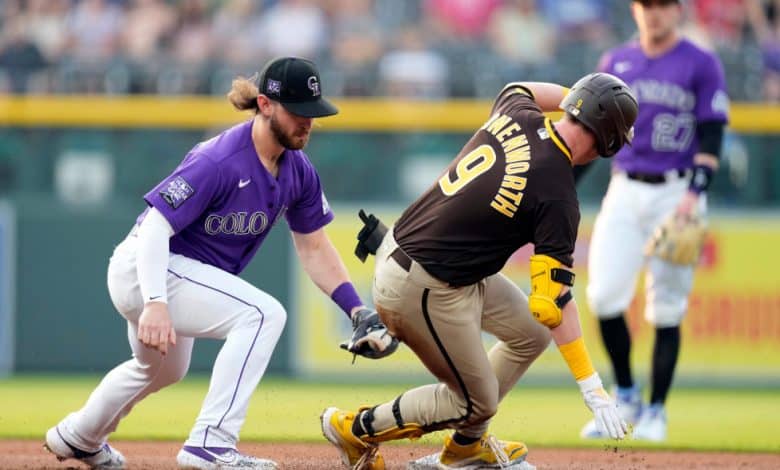 San Diego is trying to fight through a bevy of ailments to their starting rotation as they come into the August 18th Padres at Rockies matchup. Injuries to Yu Darvish, Chris Paddack, Dinelson Lamet, and others have forced SD to bring in Jake Arrieta to try and eat up some innings. Arrieta is a former Cy Young winner, but struggled in Chicago before being released.
Making his team debut at Coors Field isn't ideal for Arrieta, especially with the Rockies taking the first two in this series. Nonetheless San Diego is a somewhat astonishing -135 favorite in the series finale. Chi Chi Gonzalez isn't exactly tearing things up for the Rockies, and hasn't pitched in nearly a month while on the COVID list. The total for this one is a sky high 14.
Change of Scenery for Arrieta
San Diego would love Jake Arrieta (5-13, 6.88) to eat up some innings in the August 18th Padres at Rockies matchup, but it will be interesting to see if what the right-hander needed was just a change of scenery. Arrieta's return to Chicago was a rocky one, and he was released after giving up 21 ER over his last four starts.
Arrieta couldn't hold on to a 7 run 1st inning lead in one of his recent starts at Milwaukee, so what number is going to be safe at Coors Field against a red hot Rockies offense? Speaking of, where is the San Diego offense? The Padres have put up just 8 runs in Denver over the last two games, and have scored 3 runs or less in 5 of their last 7.
San Diego tries to avoid the sweep as they continue to struggle against Colorado. The Rockies have just 14 road wins on the year, but 4 of them have come at Petco Park. The Padres have dropped five straight at Coors Field, and are just 2-8 the last 10 vs. Colorado this season.
Can Gonzalez Continue the Strong Starting Pitching?
Chi Chi Gonzalez (3-6, 6.06 ERA) makes his first start since July 23rd as he returns from the COVID list. Bud Black is hoping that the time away allowed Gonzalez to reset a bit, as he had allowed 11 ER over his last two starts before being sidelined.
Gonzalez has only allowed 4 HR in 9 appearances at Coors Field this season, and his home ERA (5.36) is actually better than his numbers on the road (6.70). Gonzalez is 0-1 with a 4.50 ERA in two starts vs. the Padres this season, giving up 4 ER over 6.0 IP when the teams met in Denver in mid-June.
One positive thing going for Gonzalez is that he'll likely get a ton of run support on Wednesday. The Rockies are raking offensively at Coors Field, scoring at least 6 runs in 7 of their last 8 home games. Charlie Blackmon and C.J. Cron have both homered in the first two games of this series, while Trevor Story has gone deep twice in 10 career ABs vs. Arrieta.
August 18th Padres at Rockies Pick
How do you not like Colorado in this one? The Rockies, for all their woes on the road, are still 19 games above .500 at Coors Field. The Rockies offense is rolling in home games, and Arrieta couldn't stick around in the Windy City for a 4th place Cubs team.
Padres 7 – Rockies 9
Free Pick: Rockies +115