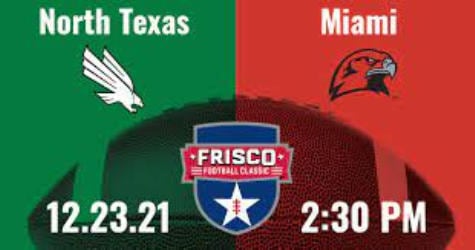 North Texas is making their fifth postseason appearance in the last six years under coach Seth Littrell in 2021 Frisco Football Classic betting, but still looking for that elusive first bowl win. The team takes a short 35 mile trip East for Thursday afternoon's game in Frisco, TX, but are still +2.5 underdogs to Miami of Ohio.
The RedHawks have one of the best passing offenses in the country, but face a challenge against a much improved North Texas defense. Miami scored 35+ points in five of their final six games of the regular season, and are also looking for their first bowl game win under coach Chuck Martin (0-2).
North Texas Has Turned Things Around
The Mean Green are in a bowl game yet again, helped a little bit by the addition of the Frisco Football Classic so that every six win team could get an extra contest. North Texas is familiar with the process of going to a bowl, but are still 0-4 in these extra tilts under Littrell.
North Texas likely didn't think they'd be playing in a bowl game after their 1-6 start to the season. During that stretch the Mean Green defense was atrocious, allowing 35+ points in five of those defeats. To their credit North Texas has turned things around in a big way with a five game win streak to close out the regular season. It's a legitimate win streak too, finishing the regular season by handing #22 Texas-San Antonio their first loss of the year.
Ikaika Ragsdale ran for 146 yards and 2 TD vs. the Roadrunners and DeAndre Torrey added 108 yards and 3 scores as North Texas compiled 340 yards rushing. Ragdale and Torrey both went for 100+ yards in the last two games of the regular season while running for a combined 8 TDs. That will be the approach in 2021 Frisco Football Classic betting, but Miami-Ohio is used to defending the ground game playing in the run heavy MAC conference.
RedHawks Passing Game Ready to Shine
Miami of Ohio hasn't played since a 48-47 OT loss to Kent State on November 27th. They are hoping the long break doesn't kill the momentum of a very productive offense over the last month when the RedHawks averaged 500 yards and almost 40 points over the month of November.
Brett Gabbert powers that passing attack throwing for over 350 yards in three of the last four games of the regular season. Over that span Gabbert threw 15TDs so he was red hot. The top target for Miami of Ohio is Jack Sorenson, who has 1,290 yards and 10 TDs on the season, going for 100+ in six of the last seven games of the year.
Free 2021 Frisco Football Classing Betting Pick
Can Miami stop the North Texas run, and can the Mean Green limit the potent Red Hawks passing attack? Those are the two biggest questions facing Thursday afternoon's contest that has an O/U of 55.5. Miami Ohio should be able to match up with the UNT rushing attack because they are used to run-heavy offenses playing in the MAC that featured teams like Kent State (248.6 ypg), Northern Illinois (241.4 ypg), and Western Michigan (202.6).
Miami Ohio 45 – North Texas 30
Free Pick: Miami Ohio -2.5