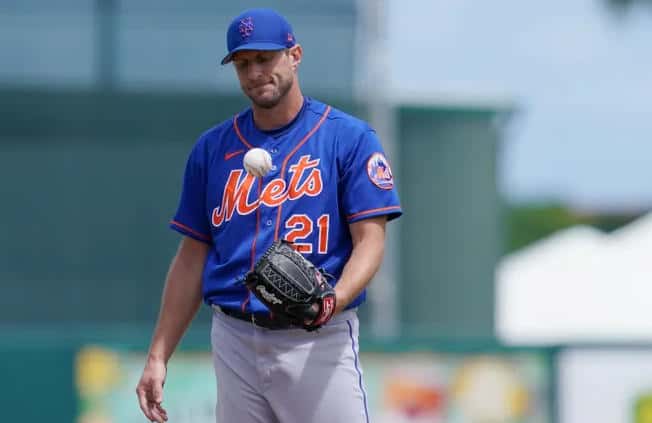 Max Scherzer is on the bump once again in the April 13th Mets at Phillies betting matchup. The right-hander who signed a 3-year, $130,000,000 deal in the offseason picked up the win in Friday's 7-3 win over the Nationals and now looks to go 2-0 and keep New York in first place in the NL East.
Scherzer is opposed by Aaron Nola in Wednesday night's matchup, the Philadelphia right-hander who is also 1-0 despite giving up 4 ER over 6.0 IP in his first start of the season. Nola had the second highest ERA of his career last season (4.63) so there are some concerns to if his better days are behind him.
Mets Go for Series Win
Wednesday is the rubber match in this series, with Philadelphia tallying a 5-4 victory on Monday and New York evening things up 2-0 on Tuesday. The game two win featured another stellar outing from Tylor Megill, who has now gone to 2-0 with a 0.00 ERA as he fills in for the injured Jacob deGrom.
It sounds crazy to say but now Scherzer, the 3X Cy Young winner, will try to follow the example put ahead by Megill. Scherzer went 6.0 IP and allowed just 3 hits in his Mets debut (80 pitches), although he did give up a 443-foot HR to Washington's Josh Bell in New York's 7-3 win. Scherzer is 14-4 with a 2.50 ERA in his career vs. the Phillies which includes a 3-0, 1.23 ERA last season (four starts).
New York would love a little more offensive consistency beginning on Wednesday night. They scored 5+ runs in each of the first three games of the season, but have been held to 2 runs or less in two of the last three. Francisco Lindor and Eduardo Escobar both have an OBP over .400 so that's a positive sign early in the year.
Another Slow Night for Phillies Bats?
The first two games of this series have been very contrasting in terms of the Phillies offensive performance. Philadelphia put together a 5-run 8th inning on Monday to pull out the 5-4 win, but lost 2-0 on Tuesday despite outhitting the Mets 6-3.
It might be tough getting anything going in the April 13th Mets at Phillies betting matchup once again with Scherzer on the hill for New York. Philadelphia has just a collective .140 batting average against Scherzer in 162 total ABs. That includes Rhys Hoskins going 1-23 (.043), J.T. Realmuto 5-50 (.100), and Nick Castellanos 1-9 (.111). Jean Segura has gone 8-24 vs. the right-hander and Bryce Harper has a .438 OBP vs. Scherzer so there is some potential there.
Nola got bailed out by his offense in his first start, getting the win in a 9-5 victory over Oakland despite allowing 4 ER and giving up 2 HR. Nola has a 6.00 ERA after his first start, but is 9-3 with a 3.12 ERA in 20 starts against the Mets.
Free April 13th Mets at Phillies Betting Pick
There are worse prices to pay than -105 in a Max Scherzer start. Philadelphia is -115 but it's hard to trust Nola just yet. The line does seem a bit off and over 70% of public bettors are behind the Mets. This seems like one to not overthink on and take New York.
Free Pick: Mets -105