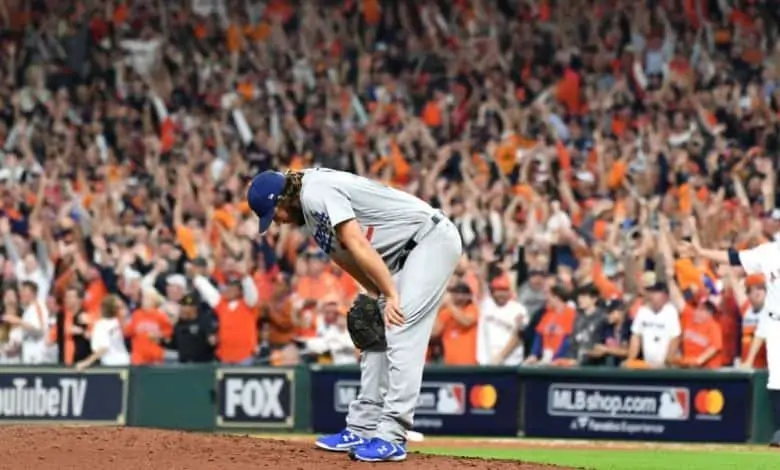 The May 25th Dodgers at Astros matchup wouldn't expect a ton of runs on paper as it's a Clayton Kershaw against Zack Greinke pitching matchup. Both aces have had their share of struggles early in the year, but seem to be getting into mid-season form as of late. Oddsmakers have still set the run total at 8.5 though.
The Dodgers have some value at just -123, as they visit Minute Maid Park on a 7-game winning streak. Houston on the other hand inexplicably got swept in a 3-game series at the Rangers over the weekend. The Astros (+103) are back home, where they are 15-9 on the season while L.A is just 13-12 away from Chavez Ravine.
Can Dodgers Get to Greinke?
L.A is on fire, winning 11 of their last 12 games including a 3-game sweep at San Francisco over the weekend that knocked the Giants out of 1st place. Los Angeles is now just 0.5 GB from the Padres in the NL West, but have a challenge up against former teammate Greinke (4-1, 3.77 ERA) in the May 25th Dodgers at Astros matchup.
The Dodgers have actually had some success vs. Greinke, hitting .290 (37-127) as a team vs. the right-hander. Mookie Betts is 3-5 vs. Greinke – all home runs, while Justin Turner is 11-33 (.333) with a couple long balls. The L.A. offense is #3 in the majors in scoring, but the Astros are 8-2 in Greinke starts this season.
Has Kershaw (6-3, 3.18 ERA) turned the corner on his season? The big left-hander has 19 K's in his last two starts, but did allow 5 ER to the Marlins in one of those. Kershaw was also knocked out in the 1st inning vs. the Cubs this month, so Tuesday's outing could be interesting.
What Happened to Houston Over the Weekend?
The Astros had taken 2 of 3 from the A's to climb into 1st place in the AL West before the disastrous trip to Arlington that saw Houston fall 7-5, 8-4, and 3-2.  Oakland had their share of struggles over the weekend as well, so the Astros are still just 1 GB in the West heading into the L.A. series.
Houston's offense was so-so vs. Texas, but it was their pitching that didn't do them any favors. Now the Astros bats will try to get going back at home for the first time in 9 days. They've hit .250 as a team vs. Kershaw (10-40) but can Jose Altuve stay hot vs. the lefty (6-15, 4 2B) without 'alleged' extra assistance from sign stealing? Altuve does have a 17-game hit streak going.
There's definitely some value backing Houston at +103 on Tuesday, at home and with Greinke on the bump. The Astros haven't been underdogs since a May 6th visit to face Gerrit Cole, and haven't been underdogs at home all season. Greinke has allowed 3+ runs in 4 of his last 5, but threw 8.0 IP of 4-hit ball last time out vs. Oakland.
Free May 25th Dodgers at Astros Pick
This is a tough one to call, as the Dodgers are on a 7-game win streak but Houston is back at home. The Astros looked horrible over the weekend, but they also might've been looking ahead to this series. Ultimately if you can get Houston as 'dogs at home and in a Greinke start, you have to take it regardless of the opponent.
Astros 4 – Dodgers 3 
Free Pick: Astros +105