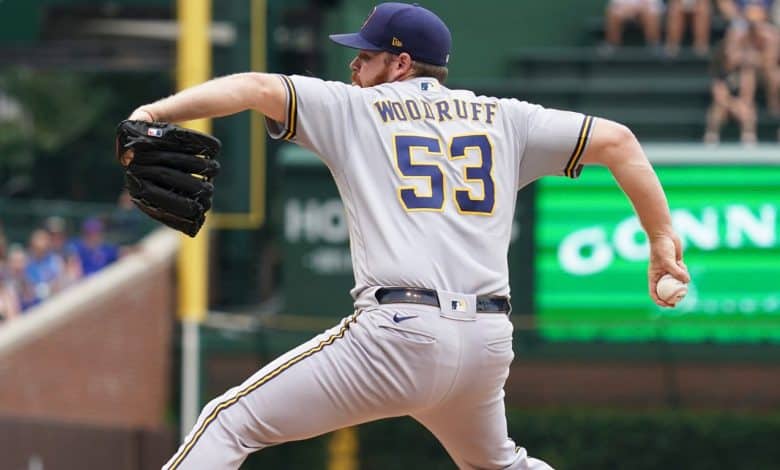 A couple of first place teams get set to continue their series in the Bay in the August 31st Brewers at Giants matchup. Milwaukee took the opener 3-1 on Monday as -137 favorites, and are -130 coming into Tuesday night's meeting at Oracle Park.
The Giants suffered a rare loss on their own field Monday night, dropping their record to 42-20 at home on the season. Give San Francisco for keeping things close in the series opener though, as they had to do some late scrambling with 7 relievers after expected starter Jonny Cueto came down with flu-like symptoms during the day, landing on the COVID list.
Brewers Offense In a Great Spot
Milwaukee accomplished two missions on Monday, getting the win while also making the Giants burn through their bullpen. San Francisco got somewhat of a bad break with not only Cueto but Alex Wood landing on the COVID list, as they were supposed to be the starters in the first two games of the series. The Brewers are taking advantage though.
In a way it's somewhat surprising Milwaukee isn't priced higher than -130 in the August 31st Brewers at Giants matchup. Corbin Burnes continued his push for a possible NL Cy Young award with 6 innings of 1 ER ball in the opener, and Brandon Woodruff (8-7, 2.38) will look to continue his strong season on Tuesday. Woodruff struck out 10 in 6 innings against the Reds in his last start, the third time in the last four allowing 1 ER or less.
One thing a little concerning is that the Brewers managed just 3 runs on Monday even with SF in a bullpen day. Jace Peterson was solid going 3 for 3 with a walk, but Kolten Wong struck out three times from the leadoff position. The good news is that Milwaukee now has familiarity, likely facing a slew of relievers (or a Triple A callup) on Tuesday.
Can Giants Offense Make Up the Difference?
San Francisco is up against it in terms of pitching on Tuesday, but they're hoping for a better showing from the offense in game two. The Giants managed only a run against Burnes on Monday, but that's kind of the norm as the Brewers ace has given up a run or less in 8 of his last 10 starts.
The Giants managed just one run in a matchup with Milwaukee's Woodruff on August 7th, but tapping into the Brewers bullpen in a 9-6 extra innings win as +166 underdogs. Former Cub Kris Bryant has the most experience against Woodruff, but is just 3 for 22 (.136) in his career vs. the Brewers starter. San Francisco as a team is just 7 for 54 (.130) vs. Woodruff.
August 31st Brewers at Giants Pick
San Francisco is dealing with some adversity in losing a couple starting pitchers to COVID protocols over the last 48 hours. That's not ideal considering the Giants are trying to hold on to a 1.5 game lead over the Dodgers in the NL West, especially up against a fellow 1st place team in the Brewers. Milwaukee hasn't been priced at -130 or lower with Woodruff on the mound since July 5th, so there is the value.
Brewers 6 – Giants 2 
Free Pick: Brewers -130