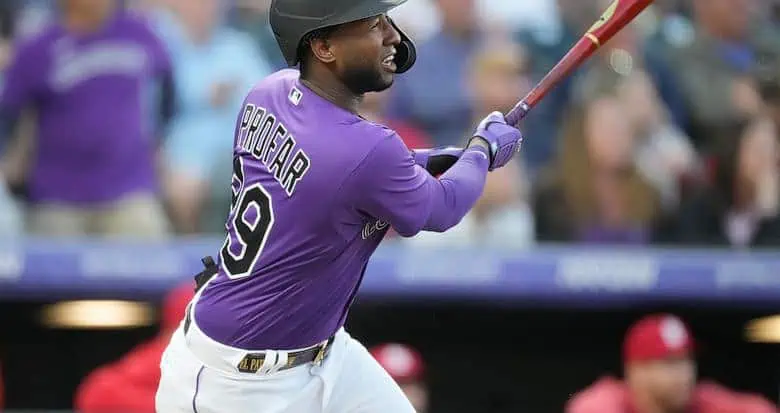 Colorado has been a very different team at home compared to on the road the past few seasons, and they've pushed their record to 3-2 at Coors Field with Monday's 7-4 win over St. Louis as +124 underdogs. Despite the series opening win, the odds have increased even more for the April 11th Cardinals at Rockies betting matchup with the home team up to +140.
St. Louis is starting to look like the road Rockies teams of the past, with the Redbirds now 1-3 in away games this season. The Cardinals managed just 6-hits in the hitter-friendly Denver atmosphere on Monday as they continue a very inconsistent start to the year – but it's also very early for the reigning NL Central division champions. St. Louis catches a lofty -165 price tag on Tuesday so oddsmakers are expecting a bounce back.
Why St. Louis Has Value at -165
The line kind of gives this one away, with St. Louis catching such a high price despite being 1-3 on the road while also looking flat in the series opening 7-4 loss as -134 favorites. Even the Cardinals -1.5 run line is listed at -114, so signs are pointing to the Redbirds evening things up on Tuesday night.
Nolan Arenado and Willson Contreras were a combined 0-8 on Monday, but you never want to count out this Cardinals offense playing in the hitter-friendly Coors Field. Paul Goldschmidt did go 2-3, a nice night following his 2-13 series against Milwaukee over the weekend. Look out if he starts heating up.
The Cardinals did drop two of three over the weekend at the division rival Brewers, so maybe they were a bit drained heading into Monday's series opener. St. Louis as a team needs a bounce back, but so does starting pitcher Miles Mikolas (0-1, 964 ERA). Mikolas had a 3.29 ERA last season, so he should trend back that way as he gets a couple starts under his belt.
Why Colorado Has Value at +140
It seems weird that the odds have climbed for the Rockies after their 7-4 win on Monday at +124. Colorado did drop a couple at home to Washington over the weekend (10-5 at -110 and 7-6 at -148) but looked good in belting out 13 hits on Monday, including 9 off St. Louis starter Steven Matz.
The Colorado offense has to be licking their chops at the opportunity to face Mikolas at Coors Field in the April 11th Cardinals at Rockies betting matchup. Mikolas has allowed 5ER in each of his first two starts of the season, and has a 13.50 ERA in four career appearances at Coors Field.
Kyle Freeland (2-0, 0.00 ERA) looks to continue his impressive start to the season as he has yet to allow a run over 12.2 IP. That run includes pitching into the 7th and allowing just 4 hits at home against the Nationals last Thursday.
Free April 11th Cardinals at Rockies Betting Pick
This looks like a game where you read the line and not the stats. Mikolas has gotten rocked in two starts this season while Freeland hasn't allowed a run and yet the Cardinals (who are 1-3 on the road) are heavy, heavy favorites. Oddsmakers don't make mistakes, and the bait is laid down on Colorado.
Free Pick: St. Louis -1.5 (-114)