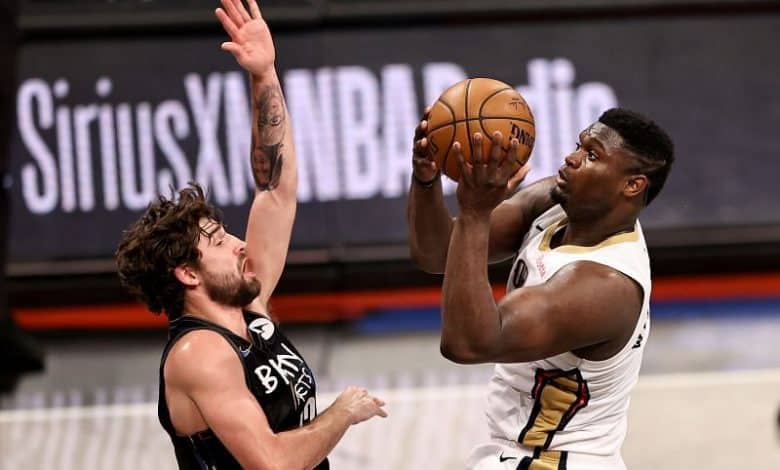 Brooklyn is once again facing a shorthanded lineup as they head into the April 20th Nets at Pelicans matchup. Kevin Durant, recently returned from a hamstring injury, injured his thigh 4 minutes into Sunday's game with the Heat and will join James Harden (among others) on the Nets bench on Tuesday.
It's going to be the Kyrie Irving show in this matchup, and despite dropping three straight games the Pelicans are -2.5 home favorites here. The last two defeats have come in OT, at Washington and at New York who have won a combined 11 straight games. Do the Pels' get this one kind of easy?
Kyrie and Who Else?
The Nets have flip-flopped wins and losses over the last five games, which would normally bode well for Brooklyn coming off a 107-109 defeat at the Heat on Sunday. The Nets did get that win even after Durant was injured early, and it wasn't even Irving that led the way as Landry Shamet chipped in 30 points off the bench.
Nonetheless, losing Durant is a concern going on the road to New Orleans. Irving has been held to 20 points or less in three of the last four, and the Pelicans front court is so thin that Blake Griffin has had to start at center the last couple games. That's a huge mismatch not only against Zion Williamson, but Steven Adams should dominate on the interior as well.
Will Irving have a breakout in the April 20th Nets at Pelicans pick – and more importantly will it be enough? New Orleans has given up a 43 point outing to Sacramento's De'Aaron Fox as well as 36/15/9 to Russell Westbrook over the last four games.
Pelicans Look to Be in a Good Spot
New Orleans has dropped three straight, albeit against some good teams. The Pelicans need to start getting into desperation mode though as they currently sit 3.5 games back from San Antonio for the 10 seed which would get them in the playoff game.
It's hard to know what more to expect from the big New Orleans producers. Zion Williamson has 25+ in 5 of the last 6 and Brandon Ingram has 27+ in 4 of the last 5. The Pelicans don't get much from their backcourt though, as Lonzo Ball has a total of 9 points in the last two games and Eric Bledsoe has been held to single digits in 3 of the last 5.
Steven Adams is a real big X-factor in Tuesday night's tilt, and he should be a presence on the inside with at least a dozen rebounds in three of the last four. The Nets have given up a 15 rebound game to Bam Adebayo and 13 boards to Joel Embiid over the last three games. Even Charlotte backup C Vernon Carey had 21 points vs. Brooklyn on April 16th after scoring 8 points the entire season.
Free April 20th Nets at Pelicans Pick
It's somewhat of a red flag that New Orleans is only a -2.5 favorite in this matchup, but there's just nothing to give Brooklyn value. The Pels' can dominate on the interior from three different spots, and even if Irving drops 35+ it's hard seeing that be enough. Brooklyn just needs to bide time until they get healthy – while the Pelicans absolutely need this one.
Pelicans 124 – Nets 110
Pelicans -2.5