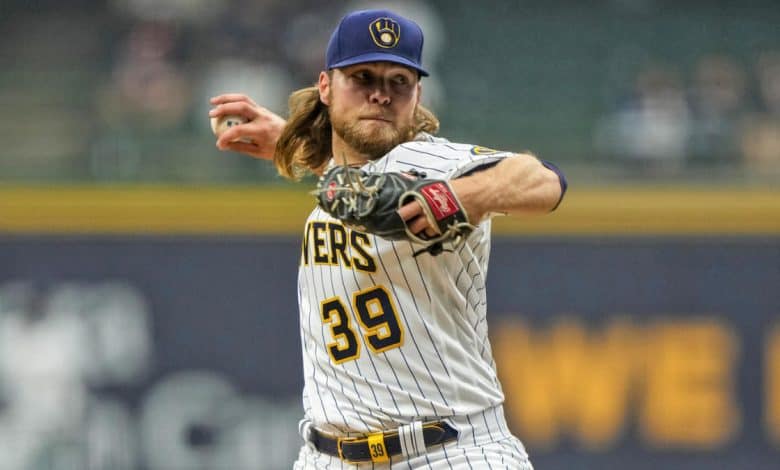 The Thursday May 13th Cardinals at Brewers pick is a rubber match at American Family Field. St. Louis captured the opener 6-1 on Tuesday before Milwaukee evened things up with a 4-1 victory on Wednesday. The Brewers took 2 of 3 in St. Louis earlier this season as well.
The series wrap-up looks set to be a pitcher's duel, as Corbin Burnes (2-2, 1.53 ERA) is 2K's short of the all-time record for strikeouts without a walk. He's opposed by Jack Flaherty (6-0, 2.83 ERA) who is riding a personal six game win streak. Milwaukee is a -135 favorite here, and the run total is just 7.
Can Cardinals Get to Burnes?
This will be the second time facing Burnes this year for St. Louis, who managed just 1 hit over 6.0 IP in what ended up being a 3-1 win on April 8th. There are a couple Cardinals batters who have had success against the Milwaukee starter though, namely Paul Goldschmidt who is 5-11 (.455) with a HR. Matt Carpenter has also went yard twice vs. Burnes in 11 AB.
St. Louis batters were stifled in Wednesday's 4-1 loss, managing just 1 ER and striking out 10 times in 7.2 IP against Milwaukee starter Brandon Woodruff. That defeat snapped a 4-game win streak the Cards' had going, and the St. Louis offense had put up 5+ runs in three of those. Can they get back on track in Thursday's tilt?
It might be another long day at the plate in the May 13th Cardinals at Brewers matchup. The good news is St. Louis likely won't need a ton of runs to come out on top at +115 in this one if Flaherty continues his successful stretch. The right-hander has collected the win in six straight starts, allowing a total of just 7 ER over that span.
Brewers Search For Another Series Win
Milwaukee took 2 of 3 in St. Louis earlier this season, but lost 3-1 in the Burnes start in that series. The good news is that the Brewers seem to have put a recent 6-game losing streak behind them, winning three of their last four. Milwaukee is also just 9-9 at home on the year though.
It's a tough matchup for the Brewers offense, but they were able to get to Flaherty in two meetings last season. Milwaukee roughed up the Cardinals starter to the tune of 9 runs in just 3 innings in an 18-3 win on September 15th of last year. Milwaukee plated 3 runs in 5 innings in a 3-0 win on September 25th as well.
All eyes are going to be on Burnes on Thursday. He has 49 K's and 0 walks this season, two strikeouts short of tying Kenley Jansen's record for most K's without a BB to start a season. That doesn't mean this won't be a challenge for Burnes though, as he hasn't pitched in two weeks after being sent to the IL with a non-disclosed injury. Burnes allowed 4 ER in an 8-0 loss to Miami in his last start on April 26th.
May 13th Cardinals at Brewers Pick
Will this one be the pitcher's duel it's expected to be? Burnes hasn't tossed in two weeks and the Brewers scored 12 runs in two appearances vs. Flaherty last season. The run total is just 7 for this matchup, but ultimately you have to ride the hot hand in Flaherty who has won six in a row and against the uncertainty of Burnes after a long layoff.
Cardinals 5 – Brewers 3 
Free Pick: Cardinals +115