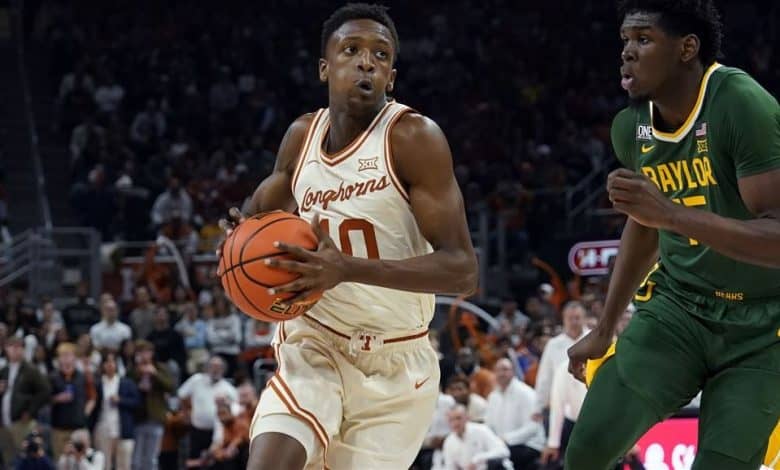 The Longhorns try to stay in the hunt for the regular season Big 12 crown when they head to Waco on Saturday for the Texas at Baylor betting matchup. This is a huge matchup for both teams battling it out in the best conference in the country, as the Bears are only two games back in the loss column but also with just three to play.
Baylor is 13-2 at home this year, a big factor in why they are -3.5 favorites in Saturday's matchup. The Bears hung relatively tight in Austin back on January 30th with a 76-71 loss, but that also snapped a six game win streak in the head to head series. Over 3/4 of public betting is on BU at home.
Why Texas Can Cover +3.5 Points
The Longhorns (22-6) were as high as #2 in the country this season so they are a team that would seemingly have value any time they are getting points. Even though it was at home, Texas just dismantled Iowa State 72-54 on Tuesday, rolling to a 47-29 1st half lead against the best defense in the Big 12.
Any time you can get an offense like Texas' getting points you have to take a look. The Longhorns are the #1 scoring team in the Big 12 and are 12th in the country in adjusted efficiency at that end of the court but might be getting even better with the recent surge of Sir'Jabari Rice.
Rice 'only' averages 12.1 ppg but has gone for 24 against both West Virginia and Oklahoma over the past two weeks and had 15 against Iowa State this week. If he can keep that up while you throw in the veteran presence of Marcus Carr (17.0 ppg) as well as the upside of Timmy Allen (15/9 vs the Sooners) and Tyrese Hunter (15 vs his former team Iowa State this week) the Longhorns can win on any given night.
Why Baylor Can Cover -9.5 Points
Sure Texas is a good scoring team and has a lot of offensive depth – but that also describes Baylor. The Bears are #2 in the Big 12 in scoring, just 1.4 points behind the Longhorns. L.J. Cryer (14.9), Adam Flagler (15.6), and Keyonte George (16.9) can have just as big of games as anbody on the Longhorns.
With two teams that can go blow for blow on offense, you look towards which team has the better defense. These schools are 8/9 in defensive scoring in the Big 12 so that's perhaps a wash as well, with Texas being 30th but Baylor 89th in adjusted defensive efficiency.
Home court also has to be taken into account for Saturday's matchup, with BU being 13-2 at the Ferrell Center this season with their losses coming 88-87 to TCU and 97-95 in OT to Kansas State in consecutive games in early January. Essentially the Bears are 3 points away from a perfect record at home.
Free Texas at Baylor Betting Pick
The biggest red flag in this game is just how much public betting is on Baylor. The line has moved slightly towards the Bears accordingly, but Texas isn't a bad public fade considering they are #8 in the country.
Pick: Texas +3.5