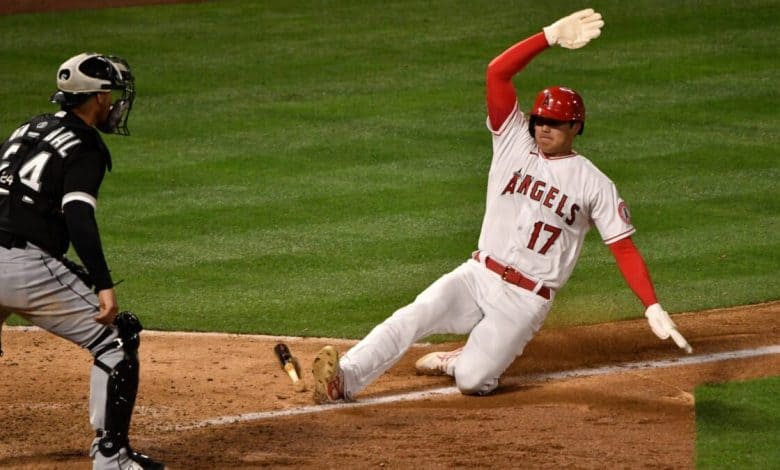 The April 4th White Sox at Angels game should be a treat for fans of ESPN's Sunday Night Baseball. Los Angeles starter Shohei Ohtani is going to double-dip in this matchup, starting on the mound and also batting despite the Angels having access to the DH. Ohtani won't even bat 9th as usual in the NL, he's hitting 2nd.
Could Ohtani pulling so many duties on Sunday actually help the White Sox? This is the first time in his career that the Ohtani has pitched and batted in the same lineup, which is strange in itself. That's just another game for an NL pitcher, but Chicago is looking for any edge to head to Seattle Monday with a series split.
White Sox Look For Equalizer
Chicago had a rough assignment having to go out to the West Coast for a 4-game series with the Angels to begin the 2021 campaign. The White Sox had their chances on Thursday in a 4-3 defeat, looked great on offense in an 11-8 win on Friday, but then were completely shut down in a 3-5 loss on Saturday night. Inconsistency is a theme although we're just three games into the season.
No Sox batter has ever faced Ohtani, so things could get interesting on Sunday night. There's value on Chicago as +110 underdogs to even the series, but -130 isn't a bad price for the Angels as this series wraps up. As interested as ESPN will be in Ohtani, Chicago's Yermin Mercedes is also a huge story as he's started the season with hits in 8 of his first 9 AB.
Chicago's starter Dylan Cease has a really good chance of sneaking under the radar and being the dominant pitcher of the night. Cease dropped his ERA from 5.79 in his rookie season to 4.01 a year ago. Cease really looks poised to continue that development after posting a 1.06 ERA in four Spring training starts.
Angels Offense Looking Solid Early
Saturday night's game between these two teams can best be described as a battle. The Angels were down 1-0 at one point and then 3-2 in the 8th before a Jared Walsh triple and then a Justin Upton 2-run HR gave LAA a 5-3 victory as +105 underdogs.
Sunday's game features two of the most potent offenses in the American League but like the White Sox, Los Angeles doesn't have a ton of experience against the opposing starter. David Fletcher, Upton, and Albert Pujols are the only Angels batters to have ever faced Cease, going a combined 0-8. Mike Trout is 3-8 in this series so far, drawing 5 BBs but also striking out 5 times.
One big question facing Joe Maddon's squad in the series finale is if Ohtani pitching is a good thing or a bad thing? He'll have the advantage of no Chicago batters ever seeing him, but has also started 12 games over the past 3 years. The Sox offense has had their share of ups and downs this series, but these aren't the batters you want to work things out against.
Free April 4th White Sox at Angels Pick
There's great value on the Sox +110 here. The only reason the Angels are favored is because Ohtani is the bigger name, but in reality Cease is the better pitcher.
White Sox 7 – Angels 3
Free Pick: White Sox +110