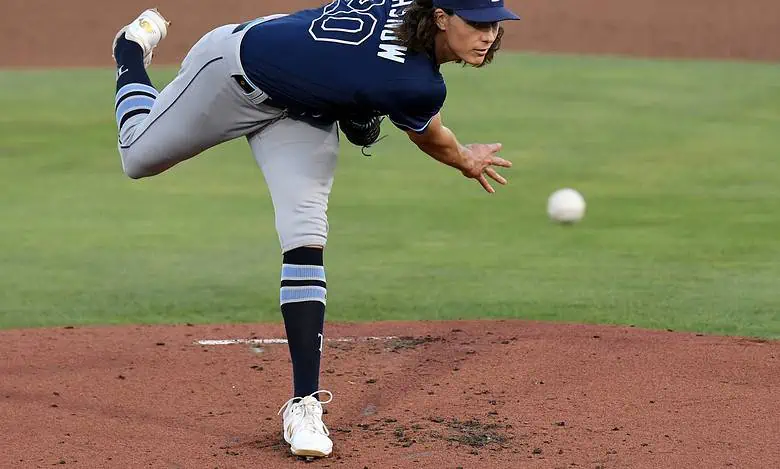 Tampa Bay has already been a top 5 pitching staff so far this season, but now they add reinforcements as Tyler Glasnow is set to make his 2023 debut in the May 27th Dodgers at Rays betting matchup. Glasnow is often injured, but he's been spectacular when he does make it to the mound.
The Rays took Friday night's series opener 9-3 which pushed L.A.'s mark to 2-4 over their last six games. The Dodgers were +115 underdogs in the Noah Syndergaard start, but are -105 (TB -115) with Clayton Kershaw up in the rotation on Saturday. 55% of the betting public likes Los Angeles with the uncertainty surrounding Glasnow's return.
Why the Dodgers Have Value Saturday
Glasnow is slated to be capped around 80 pitches, so the Dodgers can fast-track when he'll be out of the lineup by taking pitches and working long into counts. Tampa Bay is familiar with using an opener, so even if Glasnow struggles early they know the drill but also used 8 total pitchers on Friday which seems like a lot for a 9-3 win.
Freddie Freeman, Will Smith, and J.D. Martinez all had 2-hits in Friday's game from the 2-3-4 spots in the lineup and Mookie Betts drew 2 walks from the leadoff spot so it goes without saying the L.A. offense can make some noise in the May 27th Dodgers at Rays betting matchup. Los Angeles scored 8 runs in each of their first two wins over Atlanta last series, and that was in games where the Braves started Charlie Morton and Spencer Strider.
Kershaw (6-4, 2.98 ERA) knows a thing or two about injuries just like his pitching counterpart on Saturday, but the Dodgers lefty looks relatively healthy so far posting a sub 3.00 ERA on the season. Kershaw's 69K's are the 14th most in MLB and his 1.10 WHIP is 20th best.
Why the Rays Have Value on Saturday
Tampa Bay managed 6 ER against Syndergaard in the series opener, getting a HR and 3-hits from Yandy Diaz at the top of the order as well as 5-hits, 3 RBI, and a HR combined from Christian Bethancourt and Jose Siri in the 7 and 9 spots. That performance and depth is not a shocker considering the Rays have the #2 scoring offense in baseball (6.02) and lead MLB in BA, OPS, HR, and SB.
The Rays have a tough challenge on Saturday against Kershaw, but TB has also gone 20-6 in their last 26 games against a LH starter. Not only that, Kershaw just gave up 4ER and lasted just 3.2 IP in his most recent start against St. Louis and has posted a 5.12 ERA in May.
Glasnow is a big question mark, but he had a 0.68 ERA in four rehab starts which indicates he seems to be feeling good.
Free May 27th Dodgers at Rays Betting Pick
Tampa Bay is always capable of a stinker as indicated by their 20-1 loss to the Blue Jays on Tuesday, but when you can get the best team in baseball on a -115 price tag you take it.
Free Pick: Rays -115