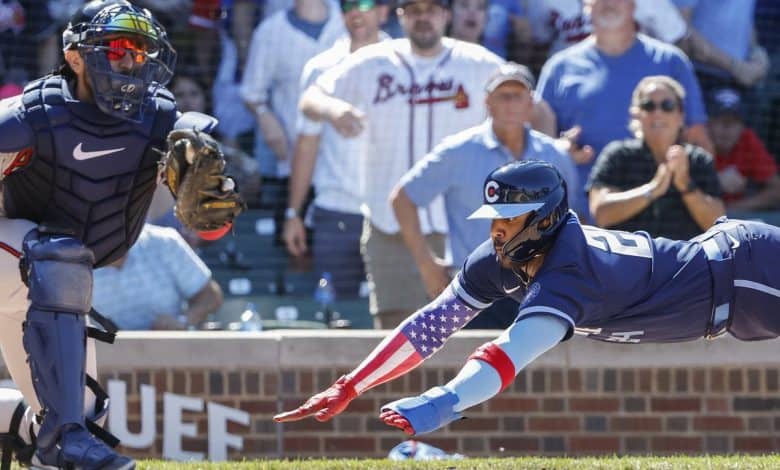 Chicago doused red hot Atlanta in Friday's series opener and looks to do the same in the June 18th Braves at Cubs betting matchup. The Cubs picked up an unlikely 1-0 win in game one as +164 underdogs, snapping Atlanta's 14-game win streak.
The Cubs had lost 10 in a row heading into the series opener, and their win marked the first time in 20 years that a team on a double digit losing streak ended a team's double digit winning streak. These two clubs combined for just 5 hits on Friday, but oddsmakers like the Braves to bounce back as -170 favorites.
Atlanta Tries to Fire It Back Up
The Braves weren't going to win them all but the only way to describe Saturday's loss was ugly. Atlanta was outhit 3-2 and an 8th inning Chicago sacrifice fly was the only run as the Braves lost for the first time all month.
Winning streaks can start to put pressure on a team, so maybe now after a loss Atlanta can look back on their impressive run and start to play a little more carefree again. Dansby Swanson has hit .358 over the past two weeks and has 11 RBI in his last13 games, Adam Duvall belted out 5HRs during the win streak while Ronald Acuna, Jr. had 4 but the Braves are still astonishingly 5.5 GB of the Mets in the NL East.
Kyle Wright (7-3, 2.57 ERA) picked up three wins during the Braves' streak and now he looks to get the team started on another big run. Wright has allowed 2ER or less in 4 of his last 6 starts, and looks like he'll get a good pitching day with the wind blowing in and temperatures being a bit cooler at Wrigley Field on Saturday.
A Rare Win Streak Coming?
Chicago started off the month with consecutive wins over division rivals the Brewers and Cardinals, but it's been pretty bleak since then as the team has compiled a 4-11 record in June. That being said Friday's win was pretty gritty and we'll see if the Cubs can build on that as +150 underdogs on Saturday.
Wright is on a pretty good stretch for Atlanta and the Cubs don't have a ton of experience against the Braves pitcher going a combined 7 for 26 against him. Willson Contreras does have a HR in one of his four career ABs vs. the right-hander while Ian Happ and Jason Heyward have multiple hits vs. Wright in a combined 9 ABs.
Chicago got 6.0 IP of 2-hit ball from Keegan Thompson on Friday, and now they'll see if Justin Steele (1-5, 4.33 ERA) can emulate that in the June 18th Braves at Cubs betting matchup. Steele has consecutive quality starts, going 7.0 IP against both the Cardinals and Padres while allowing just 1ER in each – but both ended up as Chicago losses.
Free June 18th Braves at Cubs Betting Pick
Most people expect the Braves to bounce back on Saturday and a whopping 90% of the betting public is on Atlanta. That's always dangerous especially when the moneyline is 'only' -170, but the better wager here looks on the total in very good pitching conditions and with two offenses that couldn't get a thing going on Friday.
Free Pick: Under 7.5