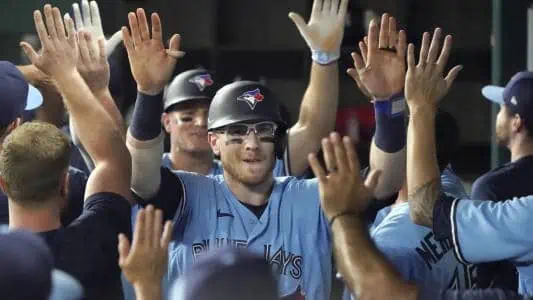 Toronto held on for a 2-1 victory on Friday night, getting the W in the opener as they head to Saturday's June 17th Blue Jays at Rangers betting matchup. It's no shocker that Toronto got the win though as they are now 8-2 in their last 10 against Texas.
The Blue Jays picked up the win at -149 in the opener, but the line is split at -110 for Saturday's game. That's somewhat of a shocker considering Toronto hasn't named a starter and may not do so until game time – or go by a committee – but that also doesn't give a lot of confidence to the Rangers' pitching situation.
Why Toronto Has Value on Saturday
Even though the Toronto hasn't listed a starter for the June 17th Blue Jays at Rangers betting matchup, the fact that the line is still a -110 toss-up means oddsmakers aren't all that worried. The biggest thing working in the Blue Jays favor is just their recent mastery over Texas, who they have taken 8 of the last 10 against.
It's hard to tell who will go on the mound for Toronto, but their bullpen is relatively fresh after a solid 6.0 IP of 4-hit ball from Kevin Gausman in Friday night's win. Chris Bassitt (7-5, 4.02 ERA) is up in the rotation but he got blasted in his last start allowing 11 hits and 8 ER to the Mets which is why he may be passed up here.
The Blue Jays got the win on Friday despite managing just 3 hits, a performance that will likely need to be better in game two and should – at least from Bo Bichette who has gone 4-8 with 3 HRs in his career against Texas starter Dane Dunning.
Why Texas Has Value on Saturday
The Rangers couldn't get much going on Friday night vs. Gausman, but Bassitt was hit hard in his last start against Baltimore and could be facing some confidence issues as his ERA has shot up to 4.82 for the month. Plus, we don't even know if it's going to be Bassitt on the hill as Toronto still hadn't listed a starter as of Saturday morning.
Texas has now lost five of their last six overall, but they are definitely due against the Blue Jays, a team that has had their number over the last couple years. Even with Toronto's recent dominance, the fact that the line is -110 for both teams shows the Rangers have a chance to pick up a big win here. Toronto has also alternated wins and losses the last six games, a trend that favors a Texas win on Saturday.
This would be Jacob deGrom's spot in the rotation, but we won't see him for awhile after he underwent a second Tommy John surgery. Dunning has managed to go a decent 3-1 with a 3.29 ERA in a starting role this season.
Free June 17th Blue Jays at Rangers Betting Pick
These two teams managed just 7 combined hits on Friday night, so even though the pitching matchups on both sides have some issues, it's not like either offense is dialed in either. Bassitt was very bad last time out, but he had pitched into the 8th his first two starts of the month while allowing just 2 total ER. It's not known if he starts for sure, but if he does he should return to form against a struggling Rangers team that is 1-5 over their last 6.
Free Pick: Blue Jays -110