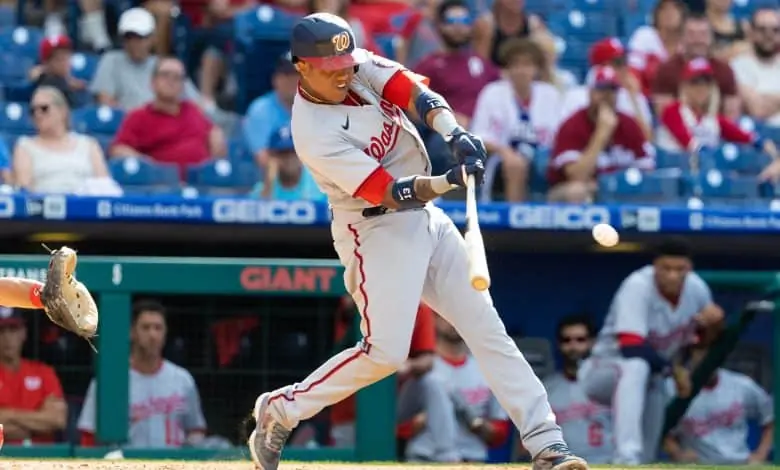 A couple teams who had been struggling as of late meet up in the July 10th Nationals at Giants betting contest. Both squads have combined to go 8-12 over their last 20, but San Francisco was able to capture a 5-3 win on Friday night as -148 favorites.
Oddsmakers have the Giants as huge -186 favorites on Saturday afternoon. There's value on SF at home, as they are 28-13 at Oracle Park on the season. Washington is +169 behind Jon Lester (2-3, 5.34 ERA) while San Francisco counters with Anthony DeSclafani (9-3, 2.84 ERA) who has picked up the win in five of his last six starts.
Washington Starting to Fade
The Nationals are just 2-7 over their last 9 games, but are still a manageable 5.5 GB in the NL East. They would be wise to turn things around sooner rather than later though, as Washington trails the Mets, Braves, and Phillies in the division.
Desclafani is on a nice run for the Giants, but Washington has gone 14-4 in their last 18 vs. a RH starter. Josh Bell has hit Desclafani well, going 10-26 (.385) with 2 HRs. Trea Turner has hit 3 HR in his last five games, and Starlin Castro is also hot with 11 hits in his last 24 AB (.458). Washington does miss Kyle Schwarber (hamstring) though, as he hit 16 HR and had 30 RBI in June.
Lester takes the ball for Dave Martinez' team in the July 10th Nationals at Giants contest. The left-hander had given up 12 ER over 7.1 IP in two starts prior, but bounced back with just 2 ER allowed last time out. Lester did walk 4 Padres batters though, and lasted just 3.1 IP.
Giants Holding On to 1st Place
San Francisco is 5-5 over their last 10, but still have a 2 game lead over the Dodgers in the NL West. The Giants have rattled off consecutive wins after Friday night's 5-3 win that was powered by three HRs. San Francisco is now just 2-2 on their current home stand though.
The Giants are 36-15 in their last 51 games as a home favorite. The offense should be able to have another big afternoon against the struggling Lester, who has a 7.08 ERA in five road starts this season. Lester also has a 9.00 ERA in three day starts on the year. Wilmer Flores had a HR on Friday night, and is 5-16 (.312) with 3 HR vs. Lester.
Desclafani pitched into the 9th in his last start, allowing just 2 ER to the downtrodden Diamondbacks. The right-hander is 4-1 at home this season, but his 4.24 ERA at Oracle Park is largely inflated by allowing 10 ER to the Dodgers at the end of May in just 2.2 IP. Desclafani has allowed 2 ER or less in 6 of his last 7 starts since that outing.
Free July 10th Nationals at Giants Pick
Washington is 18-23 on the road this season, and there isn't much to like about them on Saturday with Lester on the bump. The lefty struggles in away starts and during the day, so it should be a big day for the SF offense.
Giants 7 – Nationals 2
Free Pick: Giants -1.5 (-110)