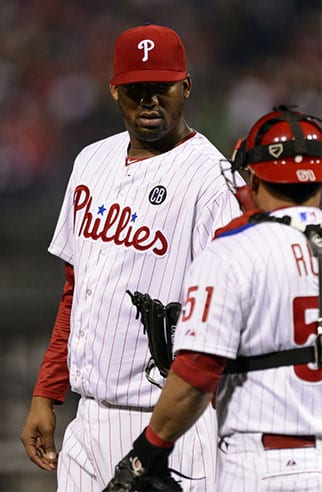 Overview
The Philadelphia Phillies head into Cincinnati today for the first game of a three game series with the Reds. The Phillies have played the Reds fairly well over the past couple seasons winning 7 of the last 12 meetings overall but they have struggled in games played in Cincinnati where they have won just 1 of the last 6 meetings.
Head to Head Trends
Phillies are 14-0 in Hamels' last 14 starts vs. Reds.
Reds are 1-6 in Leakes last 7 starts vs. Phillies.
Cincinnati Reds (-111)
The Cincinnati Reds are 4th in the National League Central 13 games out of 1st place. This season has been a kind of a let down for the Reds we're almost a third of the way through the season and the Reds are basically out of it already. That's why I would love to see MLB turn to a NHL style playoffs so even a lot of the bad teams would still have some hope late into the season.
On the hill for the Reds today is Mike Leake in his pants who is 2-4 with a 4.40 ERA on the season. After three bad outings in a row where he got hit pretty hard Leake had a nice bounce back game in his last start although he did throw a lot of pitches. The last time Leake threw close to 119 pitches was last season when he threw 118 and in his next start he wasn't all that effective.
Cincinnati Reds Trends
Reds are 0-6 in Leakes last 6 starts with 4 days of rest.
Reds are 11-28 in their last 39 during game 1 of a series.
Philadelphia Phillies (+101)
The Philadelphia Phillies are last in the National League East 9 games back of the 1st place New York Mets. At 22-36 the Phillies actually have the second worst record in the Majors and a lot of that has to due with their poor road play where they are just 7-20. Away from home the Phillies are averaging just over 3 runs per game on offense while allowing close to 5 runs per game on defense so both those numbers are going to have to get a whole lot better if they want to start winning a few more games.
Starting for the Phillies today is lefty Cole Hamels who is 5-4 with a 2.88 ERA on the season. Hamels is about the only bright spot on this Phillies team and I wouldn't be surprised to see him leave before the season is over.
Philadelphia Phillies Trends
Phillies are 5-1 in Hamels' last 6 starts.
Phillies are 16-37 in their last 53 road games.
Conclusion
Even though the Phillies really suck on the road I'm going with them over the Reds in this one. The Red aren't exactly playing great ball either and Leake threw a ton of pitches in his last start so he might not have his best stuff tonight and I think it's a great spot for the Phillies to pick up a rare road win.
Free Pick: Philadelphia Phillies +101