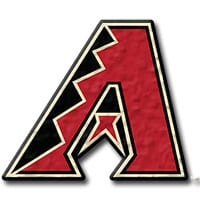 The Philadelphia Phillies head into Arizona for a three game series with the Diamondbacks. The Phillies haven't had much luck versus the Diamondbacks this season losing all 4 meetings so far but over the last couple seasons they played them fairly well winning 8 of 12 meetings.
Head to Head Trends
Phillies are 0-4 in the last 4 meetings.
Over is 4-1-1 in the last 6 meetings in Arizona.
Arizona Diamondbacks (-135)
The Arizona Diamondbacks are 4th in the National League West 13.5 games back of the 1st place San Francisco Giants. The Diamondbacks have one of the worst home records in the league at just 13-25 which kind of surprising considering they have a 23-17 road record. This is one of those things that will more then likely even out over time and with 14 of their next 17 games being played at home I wouldn't doubt if they win the majority of them.
Starting for the Diamondbacks today is lefty Robbie Ray who is 4-6 with a 4.59 ERA on the season. Ray has some pretty good stuff he has 93 strikeouts in 80 innings but he also has 35 walks so control is a bit of an issue with Ray.
Arizona Diamondbacks Trends
Diamondbacks are 7-3 in their last 10 overall.
Diamondbacks are 3-9 in Rays last 12 starts.
Philadelphia Phillies (+125)
The Philadelphia Phillies are 4th in the National League East 12.5 games back of the 1st place Washington Nationals. The Phillies had a decent first couple months of the season but they're just not a very good team and they over preformed for the first couple months so just like the Diamondbacks home record this will also probably even out and with just 3 wins over their last 18 games it looks like it's already happening.
On the hill for the Phillies in this one is Vince Velasquez who is 5-2 with a 3.65 ERA on the season. Velesquez got off to a great start this season winning 4 of his first 5 starts but since then he has just 1 win and no quality starts.
Philadelphia Phillies Trends
Phillies are 3-15 in their last 18 overall.
Phillies are 3-11 in their last 14 road games.
Conclusion
I like the Arizona Diamondbacks over the Phillies in this one. I think the Diamondbacks are the better team overall and I think they are due to start winning a few home games so they might be a good team to ride for the next few weeks.
Free Pick: Arizona Diamondbacks -135