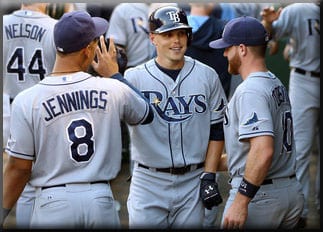 Overview
The LA Dodgers are in Tampa Bay tonight for the final game of their mini 2 games series with the Rays. The Dodgers took the first game fairly easily with a 10-5 win. Being in opposite leagues the Dodgers and Rays don't play each other all that often but the Dodgers have won the last 4 straight meetings.
Head to Head Trends
Dodgers are 4-0 in the last 4 meetings.
Rays are 10-4 in their last 14 games with Davidson behind home plate.
Tampa Bay Rays (-160)
The Tampa Bay Rays are 4th in the American League East with an 11-14 record 4 games back of the 1st place Baltimore Orioles. The Rays have one of the better pitching staffs in the American League allowing just 3.80 runs per game but they also have one of the worst offenses averaging just 3.28 runs per game. The Rays do however hit left handed pitching well averaging more then a full run more per 9 innings.
Starting for the Rays in this one is lefty Drew Smyly who is 1-3 with a 2.60 ERA on the season. Apart from his first start of the season versus the Blue Jays Smyly has probably been the best pitcher in all of baseball. In his last 4 starts he has allowed just 12 hits and 5 earned runs total while striking out 36.
Tampa Bay Rays Trends
Rays are 9-2 in Smylys last 11 starts with 4 days of rest.
Rays are 5-2 in their last 7 home games vs. a left-handed starter.
LA Dodgers (+150)
The LA Dodgers are 2nd in the National League West just a half game back of the 1st place San Francisco Giants. The Dodgers have a solid pitching staff allowing 3.78 runs per game and they have a decent offense averaging 4.30 runs per game but so far this season it looks like they have a big game with the bats then they go silent for a week so it's hard to know what to expect from the Dodgers on offense.
On the hill for the Dodgers today is lefty Alex Wood who is 1-2 with a 4.82 ERA on the season. Wood has pitched well at home where he's 1-0 with a 1.29 ERA but away from home he's been kind of bad going 0-2 with a 8.36 ERA.
LA Dodgers Trends
Dodgers are 2-6 in their last 8 overall.
Dodgers are 0-5 in Woods last 5 starts following a Quality Start in his last appearance.
Conclusion
I'm going with the Tampa Bay Rays over the Dodgers in this one. I think the Dodgers are probably the better team overall but I think the Rays have the pitching advantage with Smyly over Wood and I also like the Rays offense going up against a left handed starter.
Free Pick: Tampa Bay Rays -160