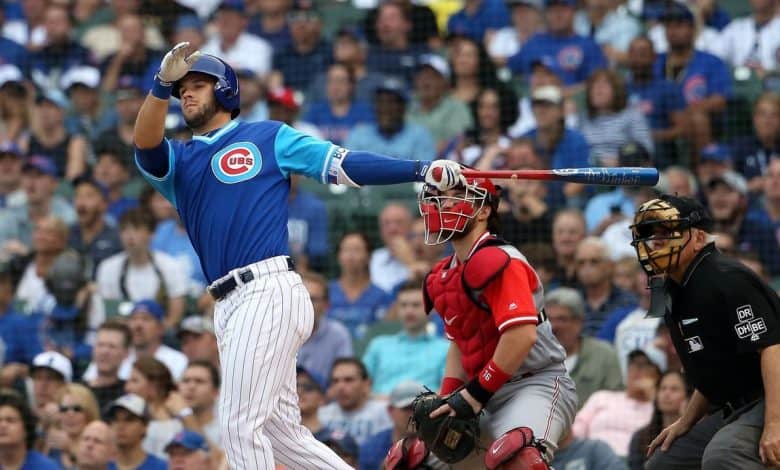 Chicago was a first place team for a brief minute, and they look to return to that spot heading into the May 28th Reds at Cubs betting preview. The North Siders were tied with St. Louis until the Cardinals win over Arizona on Thursday night, and Chicago is in a great spot to get right back there vs. a Reds team that is 3-7 over their last 10.
The Cubs are 8-2 over their last 10 games, riding a 4-game win streak as they return to Wrigley Field after 6-games on the road. Chicago is a -157 favorite in Friday afternoon's matchup, but it's going to be a weather game with light rain expected to go along with a 21 MPH wind blowing in from center field. Is Mother Nature the key player for a Reds +157 play, or does Chicago's 16-9 home record still give them the edge?
Road Reds Aren't Bad
Cincinnati is just 11-13 on the road this season, but they are still a pesky bunch away from the Great American Ballpark lately. The Reds just wrapped up a series win in Washington, and have split or won in sets against Pittsburgh, Colorado, Cleveland, and the Dodgers in away matchups before that.
The Reds have also taken two of three vs. the Cubs in Ohio to kick off the month of May. The May 28th Reds at Cubs run total is a little skewed because of the weather, but Cincinnati has beaten the Cubs by scores of 8-6 and 13-12 the last time they met. It's hard to expect that output from the Reds offense on Friday though not just due to the forecast, but because they scored 3 runs or less in each of their three games against the Nationals.
The Reds are still in a tough pitching spot on Friday, calling up Vladimir Gutierrez for his big league debut in a spot start for Wade Miley (foot). The 25-year-old has gone 2-0 with a 2.65 ERA in Triple A this season, and will have a nice strong wind working in his favor.
Cubs Try to Battle Through Weather
It's going to be a miserable day in Wrigley Field, but both teams play under the same conditions. The Cubs would have value even if they were playing on the moon lately, as they are 8-2 over the last 10, and have won four straight series'.
The Chicago offense may take a hit in these weather conditions, but it will be interesting to see if the likes of Anthony Rizzo (.351 last 10 games), and Kris Bryant (10 RBI last 12) can stay hot. There's also the unfamiliarity of Gutierrez to deal with, but it remains to be seen if that helps or hurts the Cubs bats.
Adbert Alzolay (2-4, 4.30 ERA) also gives Chicago a great chance to win on Friday afternoon. The right-hander went 7.0 IP allowing just 2 ER in a huge game vs. the Cardinals in his last start, even though he took the L in a 2-1 defeat.
Free May 28th Reds at Cubs Pick
Anything can happen in these weather games, but you have to like the Cubs returning home against a pitcher making his MLB debut. The run total is going to be low when it's released, but Chicago wants to be here more than the Reds do.
Cubs 3 – Reds 2 
Pick: Cubs -157