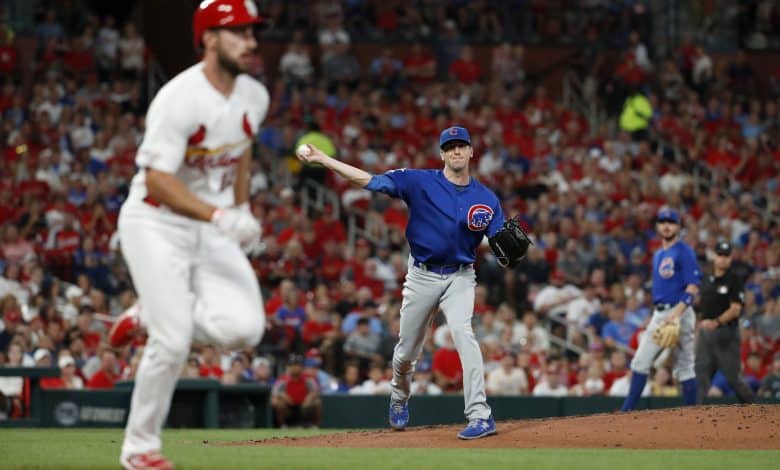 This looks like it will be an easy weekend for St. Louis as they head into Friday night's June 24th Cubs at Cardinals betting matchup. The Redbirds are tied atop the NL Central with Milwaukee at 40-32, and welcome in a Chicago team that is a measly 6-15 this month getting outscored by a combined 154-82.
St. Louis took 3 of 5 at Wrigley Field to start June, and are just coming off a 4-game split in Milwaukee. The Redbirds are back home where they are 8-2 over the last 10, and up against a Cubs team that has lost 8 of their last 9 road tilts. It's no shocker that STL is a -165 favorite in this spot.
Cubs Found Offense Last Two Games
Chicago seems destined for disappointment this season, as their 26-44 record has them in 4th place in the NL Central. The Cubs come into the weekend in St. Louis after dropping three of four from the Pirates – scoring two runs total in the first two games before erupting for 21 in the last two.
Trying to get a read on the North Siders in 2022 is nearly impossible. Patrick Wisdom seems dialed in with three straight multi-hit games (including 2 HR) while Ian Happ has a .458 OBP over the past week, but once again how do you trust this Jekyll and Hyde team? Chicago averaged 10 hits/game in the four game series with the Pirates and still lost 3 of 4.
Does Kyle Hendricks (2-6, 5.43 ERA) being on the hill for the June 24th Cubs at Cardinals betting matchup give Chicago any value at +139? Like the rest of his team, Hendricks has been inconsistent this year with his ERA sitting at a career high. The right-hander can give you 8.2 IP of 3-hit ball like he did last month against the Padres, and also follow that up with 7 ER vs. the Diamondbacks two starts later.
Good Weekend for Cards'
St. Louis didn't gain any ground in their four game series with the Brewers this week – but they also didn't lose any in the 2-2 split. Milwaukee has a pretty tough series with the Blue Jays at home over the weekend, so this looks like a great opportunity for St. Louis to climb back into 1st place by their lonesome.
Hendricks was about the only Cubs starter that St. Louis didn't face during the 5-game series from June 2nd – 5th. They've seen him a lot in NL Central battles over the years though, with Nolan Arenado going 10-36 with 3 HRs vs. the right-hander and Paul Goldschmidt 13 of 41 but with no long balls.
Andre Pallante (2-2, 1.69 ERA) will make his fourth start of the year on Friday after 18 appearances out of the bullpen. The rookie went 4.0 IP allowing just 1 ER vs. the Cubs on June 4th in a 7-4 St. Louis win and has allowed 2ER or less in all three of his previous starts.
Free June 24th Cubs at Cardinals Betting Pick
The Cubs look like they are toast here. Pallante has been pretty solid in the starting rotation for St. Louis while Hendricks is a coin flip every time he takes the mound this season. The Cardinals are just a much better team and want nothing less than a sweep this weekend.
Free Pick: Cardinals -1.5 (+115)