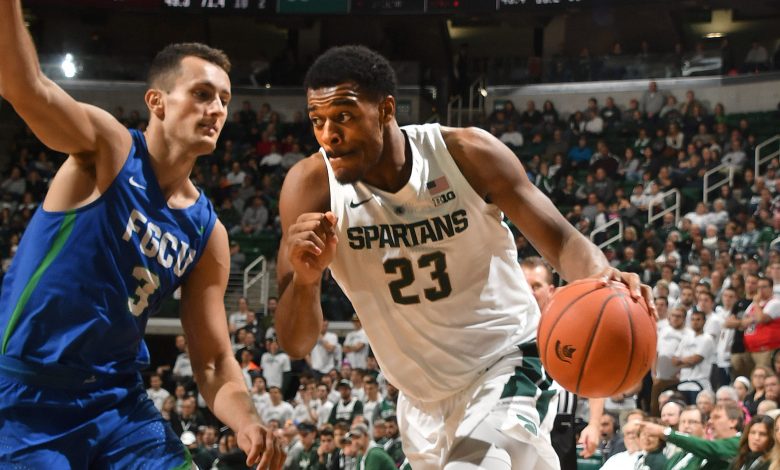 The 2019-20 college basketball season starts with a bang on Tuesday night, as the No. 1 Michigan State Spartans take on the No. 2 Kentucky Wildcats as part of the Champions Classic at Madison Square Garden. This is only the second time in college basketball history that the top two teams in the country have played their respective season openers against each other.
Michigan State is coming off a Final Four appearance in 2018-19 and returns the consensus preseason Player of the Year in point guard Cassius Winston. Coach Tom Izzo also has two other starters returning. Kentucky comes into the game after an Elite Eight appearance in 2018-19, though this is a bit of a different team for coach John Calipari, with three first-round NBA Draft picks having departed the Wildcats.
Michigan State is a three-point favorite for this season opener, while the over/under for the game has been set at 139.5.
Back For More
Winston was the leader of last season's Spartans, who tied for the Big Ten regular-season title and won the conference tournament before their Final Four run. The team's leading scorer and assist man a season ago (18.8 points, 7.5 assists), Winston is a wizard with the basketball, able to get to the hoop or pull up for a three-pointer at any time. He'll need some offensive help, though, as teams focus their defenses on stopping him.
Junior Xavier Tillman is solid underneath, having averaged 10 points and 7.3 rebounds a season ago, but his best attribute may be his ability to move on the perimeter, both on pick-and-rolls offensively or against them defensively. Sophomore forward Aaron Henry showed flashes of brilliance a season ago, including 10.4 points and 5.2 rebounds per game in the NCAA Tournament, and the hope is he'll take a step forward this season.
New Faces, Same Story
Kentucky said goodbye to PJ Washington, Tyler Herro and Keldon Johnson in the offseason, as all three moved on to NBA rosters. But coach John Calipari has long been a top recruiter, and he has a number of new faces to fill in the gaps on this season's roster. The top newcomer is freshman guard Tyrese Maxey, who was named a preseason all-SEC second-team member before even playing a minute of college basketball. A McDonald's All-American, Maxey is expected to replace some of the scoring lost from last season.
A new face that is expected to contribute immediately isn't a freshman but rather a graduate transfer in Nate Sestina, who comes from Bucknell. THe 6-9 forward averaged 15.8 points and 8.5 rebounds per game in 2018-19. Sophomore Ashton Hagans is back after earning SEC Co-Defensive Player of the Year honors last season. The 6-3 guard will be covering Winston all over the floor in this one.
Rough Start
The Spartans earned the honor of being No. 1, but it's not going to last long for Izzo's crew. Hagans and Maxey will give Winston fits on both ends, and the Spartans will miss big man Kenny Goins' rebounding prowess in this one. The Spartans have notoriously started their seasons slow over the past couple of seasons, so I'm taking Kentucky +3 to win the 1-2 matchup.