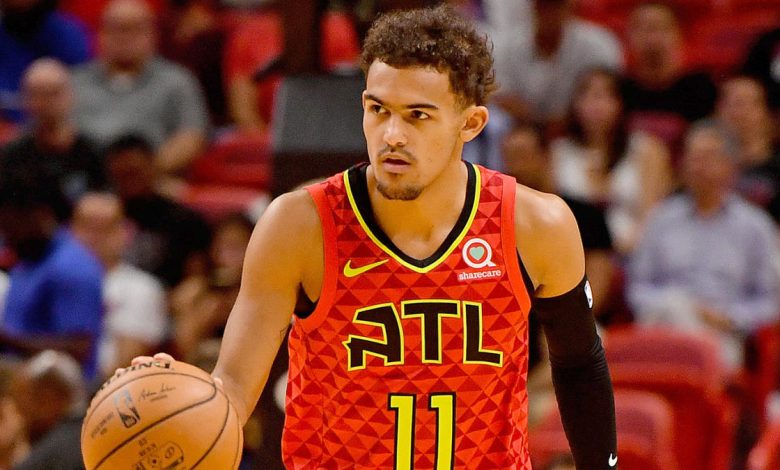 It's another week of NBA basketball, with a possible high-scoring game tipping off Monday night in Atlanta. The Atlanta Hawks (4-12, 14th in East) host the Minnesota Timberwolves (8-8, 8th in West) in a game that will feature two of the game's brightest young stars going head-to-head.
Here is a preview for Monday night's game between the Timberwolves and Hawks, along with odds and a free pick.
By The Numbers
We'll start with Minnesota, which currently sits in the final playoff spot in the Western Conference. The Timberwolves are playing at the second-fastest pace in the NBA, resulting in the ninth-most points per game with 113.4. They take a lot of threes but don't shoot very efficiently, coming in next-to-last in three-point percentage.
But the T-Wolves are a good rebounding team, especially on the offensive glass (11.1 offensive rebounds per game, sixth in the NBA), and are among the league's best teams in steals. But overall inefficiency in their offense is what is keeping them from winning more games.
Atlanta is playing at the 12th-highest pace but sits 20th in points per game at 107.8. The Hawks are also allowing the fifth-most points per game with 117.7. The Hawks, like the Timberwolves, struggle from deep and are third-to-last in three-point percentage.
Atlanta does move the ball around fairly well, ranking in the middle of the pack in assists and actually averages the third-most steals per game with 9.2. But overall, offensive and defensive ratings in the bottom five of the NBA explain why the Hawks have just four wins in 16 games.
Who To Watch
As mentioned earlier, there are two dynamic young stars playing in Monday night's game, one for each team. For the Timberwolves, center Karl-Anthony Towns has had an exceptional season, ranking sixth in the league with 26.4 points per game. Towns is also pulling down 12.4 rebounds per game with a steal and block per night.
And perhaps most impressively, the big man is shooting a sensational 44.9 percent from three, making about four shots from beyond the arc per night. With Atlanta's best power forward, John Collins, serving a suspension still, Towns should be in a position to erupt.
While Towns will be the main option for Minnesota, the Hawks will look to second-year point guard Trae Young to give them a spark. Young is tied for eighth in the NBA with 25.9 points per game on 43.5 percent shooting. He has been an elite playmaker, ranking high among the league leaders in assists with 8.7 per game while also getting 1.6 steals on average.
Young is not shooting threes at the rate or success of Towns, but he still hits about three treys a night on 34.9 percent shooting. Minnesota's guards will have their hands full with Young, who will single-handedly try to get the Hawks a much-needed win.
X-Factor
With the Timberwolves banged up, especially at guard, look to Andrew Wiggins to play a big role in this game. The sixth-year guard is averaging 25.2 points per game on 46.9 percent shooting from the field, 2.5 percent above his career average. With three guards all missing Minnesota's last game due to injury, plus the day-to-day status of small forward Robert Covington, Wiggins has the potential to go crazy along with Towns and Young.
Odds and Pick
In one of the highest-projected offensive games on the slate, the Timberwolves are slight four-point favorites on the road. Both teams are on losing streaks and could use a win, so this game should be a pretty fun watch. Ultimately, I think the combo of Wiggins and Towns will be too much for Atlanta, which will try to keep up with Minnesota's fast pace but fall just short. I'm actually going to pick the Hawks +4, since I could see Young and Jabari Parker having great games, but the Timberwolves to escape with the win.