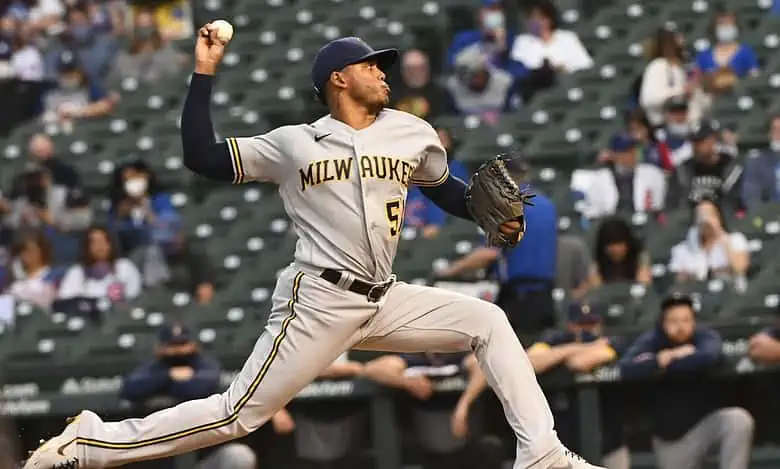 A pair of first-place teams are batting it out in Texas this weekend, and game two of the series is set for Saturday. The Milwaukee Brewers and Texas Rangers are both looking to increase their division leads, but it was the Brewers that won the series opener.
Milwaukee improved their record to 66-57 with a win on Friday night, and the Brewers were able to snap a three-game losing streak in the process. The Brewers have struggled a bit since the All-Star Break, and the Reds and Cubs are closing fast.
Texas comes into this game with a record of 72-50, and they are emerging as a favorite to win the American League this season. The Rangers have gone just 2-3 in their last five games, and at some point, they have to find a way to get going again.
Texas is a moneyline betting favorite at -130 over the Milwaukee Brewers in this game.
Peralta Pitching For Brewers
The Milwaukee Brewers will send Freddy Peralta to the mound on Saturday afternoon, and that's typically a good thing. Peralta is just 9-8 with a 4.08 ERA this season, but he has what it takes to be one of the best pitchers in all of baseball.
Pitching, in general, hasn't been as dominant for the Brewers this season as in previous years, as the team ERA is currently sitting at 4.02. Milwaukee is going to need a great performance from Peralta in this one, as they won't be scoring nine runs again.
The Brewers are hitting just .233 as a team this season, and they aren't a team that has a powerful lineup. Milwaukee has been clutch at the plate in recent games, but it will take a consistent effort in this one.
Texas Terrific at the Plate
The Texas Rangers have put up ridiculous numbers at the plate this season, and they scored eight runs in the series opener. Texas has the ability to belt the ball out of the park, or they can also string plenty of hits together.
Adolis Garcia leads the team with 30 home runs and 92 RBIs this season, but he is just one player that is having a big season. Corey Seager has returned from injury, and he is in the MVP race in the American League.
Dane Dunning will be starting for Texas in this game, and he has quietly put together a dominant season. Dunning is 9-4 with a 3.10 ERA this season, and the Rangers are counting on him to deliver on Saturday.
Rangers Roll Over Brewers
It was a wild win for the Brewers on Friday night, but they aren't a team that usually has what it takes to win in high-scoring affairs. Milwaukee does have an edge in the pitching matchup on Saturday, but the Rangers can hit against anyone.
The Rangers know that the Astros are right on their heels, and they have to find a way to get things going again in a hurry. Milwaukee won't make things easy on Texas, but the Rangers are going to break through in a big way.
Bet the Texas Rangers run line at -1.5 as they come away with a big win in game two of this series.