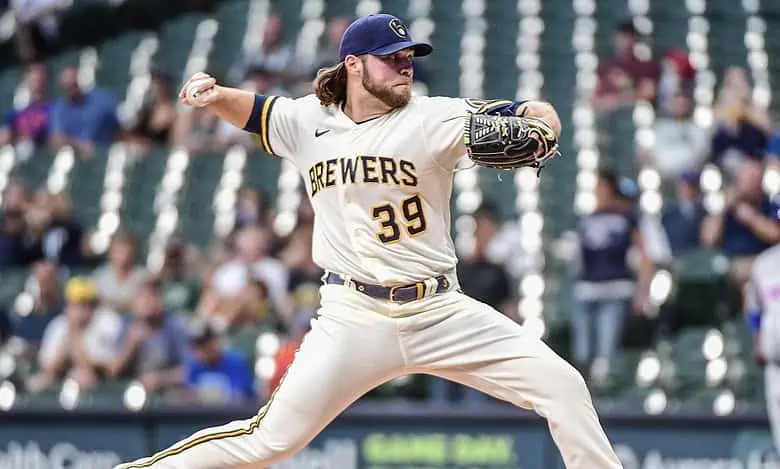 A pair of first-place teams are squaring off in Los Angeles as the Dodgers are hosting the Milwaukee Brewers. The Dodgers have won each of the first two games in this series, leaving the Brewers to try and salvage the series finale in this one.
Milwaukee comes into this game with a record of 65-56, and they currently hold a 2.5-game lead in the NL Central Division. The Brewers entered this series red-hot, but they have not looked like a first-place team in this showdown.
Los Angeles has now rattled off ten straight wins, and they have also won nine games in a row at home. The Dodgers have improved their record to 73-46 on the season, and they are starting to pull away in the NL West Division.
The Dodgers are the moneyline favorites at -145 in the series finale on Thursday night.
Brewers Need Burnes to Deliver
Starting pitching continues to be the strength of this Milwaukee Brewers team, and they will have their ace on the mound in this game. Corbin Burnes comes into this game with a 9-6 record to go along with an ERA of 3.60 on the year.
The Brewers have given up 13 runs so far during the first two games, and they are facing one of the best offenses in baseball. Milwaukee will need Burnes to go deep in this one, as the bullpen has been used a ton as well.
Scoring runs has been a problem for Milwaukee at times this year, and they have scored just three total runs in Los Angeles. Milwaukee is hitting just .232 as a team this season, and that is a number that simply must improve.
Dodgers Destroying Opposing Pitching
The Los Angeles Dodgers have belted 188 home runs this season, and they have scored more than 160 runs than the Brewers have in 2023. Los Angeles has been even hotter at the plate during this run, and it all starts at the top of the order.
Mookie Betts leads the team with 31 home runs from the leadoff position, and he is also hitting .293. Freddie Freeman is next in the order for Milwaukee, and he is hitting .337 to go along with 83 RBIs.
Lance Lynn will take the ball in this game for Los Angeles, and he is just 9-9 with a whopping 5.88 ERA on the year. Lynn has pitched better since joining the Dodgers, but it's still been a rough year for the veteran.
Brewers Bounce Back With Win
The Dodgers have been flexing their muscles on offense so far in this series, but things get much tougher when trying to battle with Corbin Burnes. Milwaukee currently has their backs against the wall, and it's time for the ace to deliver.
Scoring runs continues to be a problem for Milwaukee, but they will find some chances when facing Lance Lynn. The Dodgers are coming into this game with a ton of momentum, but that winning streak has to end at some point.
Corbin Burnes will lead the Brewers to a win on Thursday night, and taking Milwaukee at +125 on the moneyline is the correct bet to make.