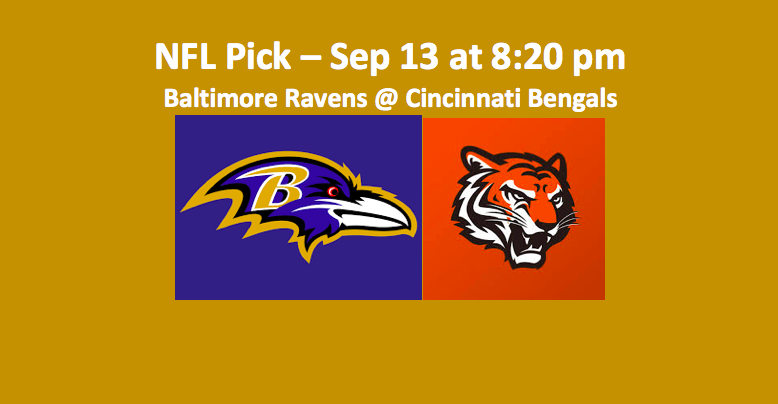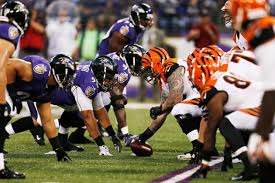 Two AFC North teams battle tonight in Thursday Night Football. The Baltimore Ravens are at the Cincinnati Bengals. The game, which starts at 8:20 p.m. E.T., offers an over/under of 43.5. Our Thursday Night Ravens play Bengals NFL pick has these teams anywhere from even to -1.0 or -1.5 for Baltimore. Both clubs are 1-0 on the new season. Baltimore won their first game on Sunday, as they destroyed the Bills 47-3. Also on Sunday, Cincinnati took down the Colts 34-23.
Baltimore Offense vs Colts Defense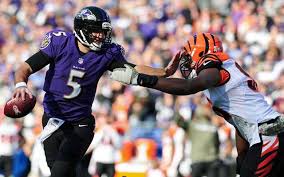 Last week, QB Joe Flacco tossed three TD passes versus the Bills. Flacco also had one of the Ravens' four fumbles. Of those four dropped balls, three were recovered by Baltimore. Flacco was good on 71% of his throws and tossed for 234 yards. Three running backs scored, as the Ravens were good for a total of 117 rushing yards. RB Kenneth Dixon had 13 carries for 44 yards. Unfortunately, he's on injury reserve with a knee issue for this game.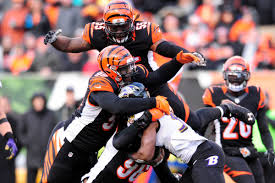 The Cincy defense was tough on the run last week, as they nailed 6.5 TFL. They held Indy to 75 yards of rushing. However, the Bengal D-backs struggled against Andrew Luck, as he threw for 319 yards and hit for two TDs.
LB Preston Brown, who snagged one pick last week, is listed as questionable for tonight's game. The Cincinnati defense will miss him tonight.
Cincinnati Offense vs Ravens Defense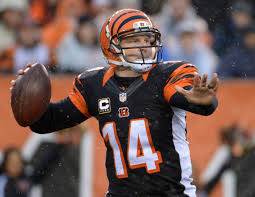 For the Bengals last week, second-year RB Joe Mixon ran for 95 yards and one score. He also caught five passes for 54 yards. The Bengals' go-to receiver, A.J. Green, gathered in six passes for 92 yards and one TD. QB Andy Dalton was cooking, as he threw for 243 yards. Dalton connected on two scores and put up one pick. He was good on 75% of his passes. Note, Green fumbled twice in the game, losing one.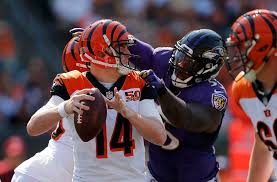 In their first game, the Baltimore defense posted six sacks and grabbed two picks. Three of those QB bring downs and both INTs were against starter Nathan Peterman. They also earned nine TFL.
The Ravens held Buffalo to 83 yards on the ground and 98 receiving yards. Their defense was stopping virtually everything that the Bills had to offer. Then again, that wasn't much.
Thursday Night Ravens Play Bengals NFL Pick
Our Thursday Night Ravens play Bengals NFL pick likes the under at 43.5. The way we see this is Baltimore does not have the most explosive offense. The Cincy D is decent enough and should control them. At the same time, the Baltimore defense is tenacious, and should be able to control what is a good but not high-powered Bengals offense. With the spread, we're taking the Ravens at even money.
Summary Ravens at Bengals Picks: Baltimore even and under 43.5