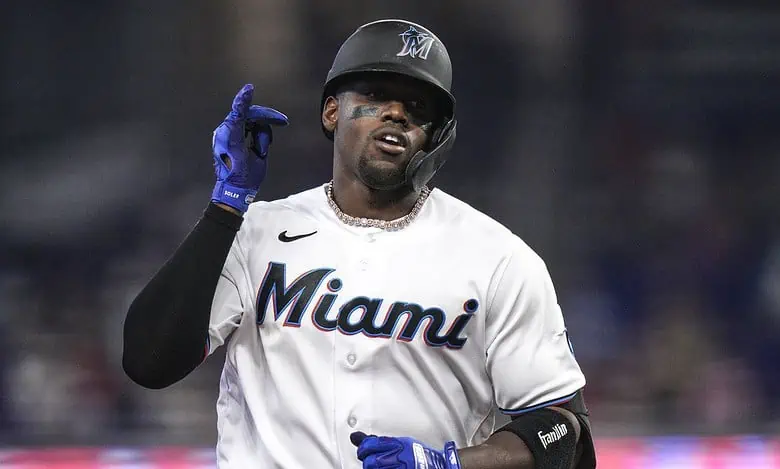 Now that the calendar has flipped to August, the MLB Playoff races are really starting to heat up in both leagues. The Miami Marlins are in Cincinnati this weekend to face the Reds, and both teams are still in the mix in the National League.
Miami comes into this game having lost five straight, and that includes a 5-2 loss in the series opener on Monday night. The Marlins are now just 58-56 on the season and are once again trying to place catchup in the NL Wild Card race.
Cincinnati was able to snap a six-game losing skid with the win on Monday night, and they are back in a playoff position in the NL. The Reds come into this game with a record of 60-55, and they have been one of the biggest surprises in baseball this season.
It is the Miami Marlins that are the moneyline betting favorites at -140 on Tuesday night in Cincinnati.
Marlins Must Score Runs
If the Miami Marlins are going to find a way to snap this long losing streak, then they are going to need to find a way to start scoring more runs. Miami has scored more than two runs just once during this losing streak, and it's hard to win games with that little impact at the plate.
Jorge Soler is providing the power for the Marlins as he leads the team with 27 home runs and 60 RBIs. Lusi Arraez has cooled off of late, but he is still leading the National League with a remarkable batting average of .374.
Braxton Garrett will be on the mound for the Marlins in this game, and he has gone 5-3 with a 4.14 ERA this season. Garrett might need to be great on Tuesday night if his team isn't going to provide him with any support.
Weaver Searching For Wins
The Cincinnati Reds will send Luke Weaver to the mound on Tuesday night, and he is searching for a way to get back on track. Weaver has gone just 2-4 with a 6.98 ERA this season, and he was hit around in his most recent outing.
Cincinnati has struggled to get outs as a whole as this team enters play with a team ERA of 4.87 this season. The Reds tend to do plenty of damage at the plate, but at some point, they have to find a way to get outs.
The Reds showed off their power on Monday night, and they have belted 133 home runs so far this season. It's going to take another big day at the plate, but they are also facing a really good starting pitcher in this one.
Marlins Bounce Back With Win
Both of these teams came into this series on a pretty big slump, and it was the Reds that were able to break out of it in the series opener. Since Miami appears to have the edge in the pitching matchup on Tuesday night, you should expect the Marlins to get some revenge.
Miami is not a team that is going to do a ton on offense, but they shouldn't have to if Garrett is able to pitch well. Weaver has not been reliable for the Reds at all this season, and they just won't be able to score enough to make up for his struggles.
Bet the Miami Marlins -140 as they get some immediate revenge over the Reds and take game two of this series.