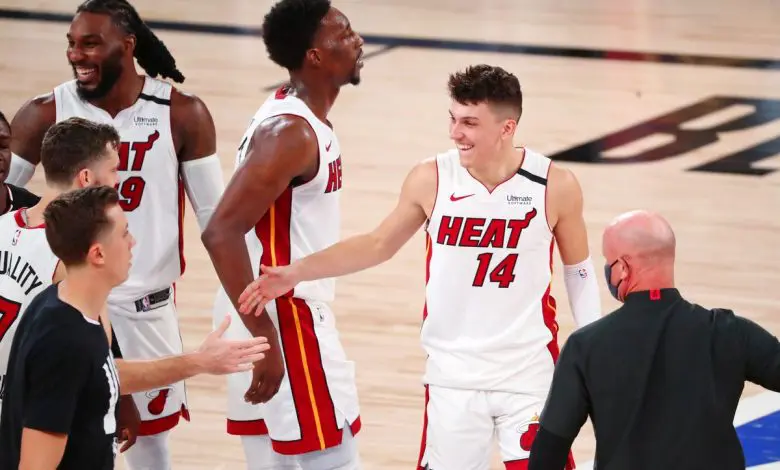 Tyler Herro introduced himself to the NBA in a big way on Wednesday night for the Miami Heat. Herro was outstanding all night, and he's the main reason that the Heat are only one game away from the NBA Finals after their 112-109 victory over Boston. Herro came off the bench, but looked like a starter dropping 37 points while shooting 67% from the field. This has been a very exciting series so far and don't expect that to change in Game 5.
Game 5 of the Eastern Conference Finals is Friday night and the Celtics come in as 3-point favorites. Moneyline betting has Boston at -155, Miami at +135 with an over/under of 213.
The NBA Bubble: Where Dreams go to Die
NBA fans wanted to see the Lakers and Celtics meet in the finals, but it doesn't look like that is going to happen. Boston has shown flashes of greatness this series, but they just haven't been able to finish games. I thought after game 3, Boston had figured it out and would go on to extinguish the Heat, but a Finals appearance doesn't look promising right now.
Jayson Tatum was scoreless in the first half which he called "unacceptable" and he's not wrong. Tatum led a second half rally to take a fourth quarter lead over Miami, but in sports, history repeats itself and the Celtics gave away another one. If Tatum would've realized that Game 4 started at 8:30 instead of 10:00, the Celtics might've not fallen into a two-game series hole.
Who Would've Thought?
If you would've asked me if Tyler Herro was going to be the hero of Game 4, I would've said you were crazy. Herro was fantastic and we all know that championship teams need bench production to win in the playoffs. Herro scored more than the entire Celtics bench combined so should we really be questioning why the Heat were victorious?
The Heat were able to stay calm when the Celtics made their second half run showing that they can finish games and be the "comeback kids" as Jimmy Butler made clear after the first two games of the series. Three other players joined Herro in a 20+ point effort. Miami has an 11-2 postseason record which is remarkable for any team, let alone a 5 seed in the Eastern Conference.
The Pick
I thought Boston got their act together after Game 3, but Miami has proven that they're a team of destiny. The Heat are talking care of the basketball and getting bench production unlike the Celtics. I don't think Herro will play a huge role off the bench in Game 5, but Miami will still play great basketball.
I think Tatum will be better than Wednesday night because that's the kind of player that he is, but it won't be enough to keep this series going. The Heat are hot and they'll be carrying that momentum into the NBA Finals.
I'm taking Miami +135 and over 213.