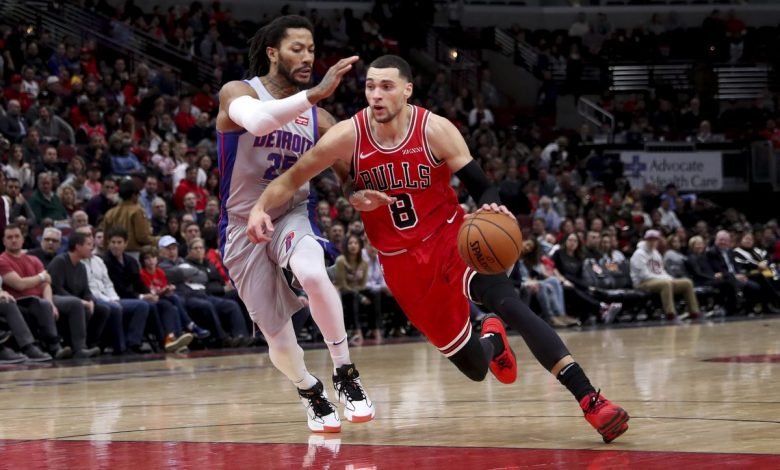 It's a Central Division showdown Wednesday night in the NBA, as the league continues to mourn the death of Kobe Bryant. The Indiana Pacers (30-17) are set to host the Chicago Bulls (19-30) in the third meeting between these clubs this season.
Here is a preview of Wednesday night's game along with odds and a free pick.
By The Numbers
We'll start with the Bulls, who, thanks to back-to-back wins and six victories in their last 10 games, trail the Nets by just two games for the eighth seed in the East.
Chicago is 25th in the NBA with 105.7 points per game on 43.8 percent shooting. The Bulls are 12th in threes per game with 12.2 but shoot just 34.6 percent as a team from beyond the arc.
Elsewhere, Chicago is 17th with just over 10 offensive rebounds per game and 22nd with 22.9 assists.
The Bulls are much improved defensively this year, ranking 10th with 107.7 points allowed. They have allowed teams to shoot 46.6 percent from the field, 22nd in the league, but hold teams to the 11th-best rate of 34.5 percent from three.
In terms of steals and blocks, no team is averaging more steals per game than Chicago, which averages a whopping 10 per game. However, the Bulls have averaged just 4.2 blocks, the fifth-fewest in the league.
Facing them are the Pacers, who fell by 10 to Portland last Wednesday, but enter Wednesday night with seven wins in their last 10 contests. Indiana is sitting just three games behind the second-seeded Raptors, though three teams are between it and Toronto.
Indiana is 18th in points per game with 110.3, but at 47.6 has the third-highest field-goal percentage in the NBA. And while the Pacers average more threes (10.3) than just two teams, their .375 percentage from deep is the third-best in basketball.
They also rank near the bottom in offensive rebounds but are fourth with 26.2 assists per game.
Indiana's defense is eighth in the NBA in points allowed with 107.1 and ninth with a .448 field-goal percentage allowed. The Pacers also rank just outside of the top five in threes allowed with 11.2, just underneath Chicago's 11.1.
While the Pacers are just 23rd in steals with 7.1, they're averaging 5.1 blocks, good for 12th in the NBA.
Who To Watch
In a season marred by injuries, Zach LaVine has been an enormous boost for the Bulls. The athletic shooting guard scored 23 points on Monday against the Spurs, 14 of them in the fourth quarter, to register his 15th straight 20-point game.
LaVine is averaging a career-high 25.2 points per game, along with just under five rebounds and nearly 1.5 steals.
Along with LaVine, keep an eye on Kris Dunn and Denzel Valentine. Dunn leads the league with 30 multi-steal games and has reached double-figures in scoring in six straight games.
Meanwhile, Valentine is coming off of a 16-point performance against San Antonio, tied for his highest total of the season.
The Pacers have also been getting hit with injuries, but Wednesday night, they will get the long-awaited return of Victor Oladipo. Roughly 53 weeks after tearing his quad tendon, Oladipo is on track to make his season debut Wednesday night.
The 27-year-old guard averaged a career-best 23.1 points in the 2017-18 season and was averaging just under 19 points last season before the injury. He is expected to be on a minutes restriction.
Hopefully joining Oladipo Wednesday night are Malcolm Brogdon and Myles Turner. Brogdon has missed the last two games with a concussion, but if he plays, he will give the Pacers a guard who is 10th in the league with 7.3 assists.
Meanwhile, Turner is dealing with an illness, but the big man is averaging just over 12 points a game. Both players are considered game-time decisions.
Odds and Pick
Whether it's the fact that they're at home or perhaps that Oladipo is back, the Pacers are big favorites Wednesday night at -9. The Pacers have won the first two meetings between these clubs this season by double-digits, with one of those games played in Chicago.
Both teams are very banged up, so a lot could depend on the final list of actives and inactives. But ultimately, I think the Pacers have a few too weapons, not counting Oladipo, that the Bulls just can't match.
I think LaVine and Dunn help make this closer than expected, however, so I'm picking the Bulls +9. However, I think the Pacers grind out a win against their division rival Wednesday night at home.