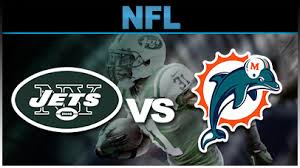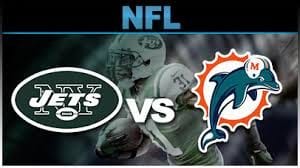 In our Miami Dolphins play New York Jets week 15 NFL pick, we have one team that is battling for a playoff spot and another that is fighting for respect. Miami (8-5) comes in holding second place in the AFC East and poised to possibly qualify for a wild card berth. They also saw their starting quarterback, Ryan Tannell, go down last week with a season-ending knee injury. The New York Jets (4-9) sit in last place and will likely end up there. They're hoping to start generating some offense.
The Dolphins have won four of their last five. Their one loss occurred on Dec. 4 when Baltimore beat them 38-6. Prior to that loss, they beat San Diego 31-24, Los Angeles 14-10, and San Francisco 31-24. Last week, they were victorious over Arizona 26-23.
The Jets had a win against the 49ers last week 23-17. Prior to that they lost to the Rams 9-6, Pats 22-17, and Colts 41-10. When they met Miami on Nov. 6 the Dolphins beat them 27-23. This game will be played on Saturday, Dec. 17 with an 8:25 kickoff.
Miami Offense vs. Jets Defense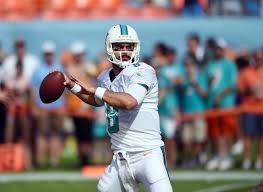 The Miami offense is generating on average 343.3 yards per game. That includes 109.3 on the ground and 234 in the air. On average, they're scoring 21.6 PPG. That's not a lot of points, but it's certainly more than the Jets who are averaging 17.6 PPG. The big question here is QB Matt Moore, who has not started an NFL game in five years. He came in partway through last week's win over the Cardinals and did fine. At this point, it's hard to find meaning in his stats, as this season he's thrown five passes and completed three.
WR Kenny Still (34 REC, 598 YDs, 17.6 AVG, 6 TDs) offers good pass catching chops and has a nose for the goal line, while WR Jarvis Landry (79 REC, 923 YDs, 11.7 AVG, 2 TDs) is a dependable receiver. Although RB Jay Ajayi (195 ATT, 956 YDs, 5.0 AVG, 7 TDs) has seen his production drop this season, he's still a potent offensive force on the field. Miami punt returner Jakeem Grant has run back one boot for a TD. One important note, the Miami frontline could offer the ground game more running room and QBs a bit more protection.
The Jets are giving up 24.9 PPG. They're strong on forcing fumbles, as they have 15, but weak on recoveries, as they only have two. In addition, New York has only six interceptions, 41 PD, and 22 sacks. They have accumulated 52 TFL. DE Leonard Williams (53 TCKLs, 7.0 Sacks, 6 TFL, 2 FF) is one of their top performers. Safety Rontez Miles has forced three fumbles.
New York Offense vs. Dolphins Defense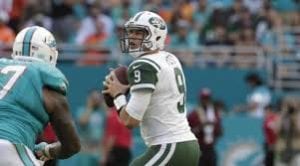 As noted, the Jets are scoring a mere 17.6 PPG. In five of their games, they have scored between three and 13 points. The Jets will start second-year QB Bryce Petty (58,5 AVG, 2 TDs, 4 INTs, 8 Sacks) over vet Ryan Fitzpatrick. In our Miami Dolphins play New York Jets week 15 NFL pick, we think that could benefit the Dolphins who have solid linebacking and a good secondary.
There are two question marks at receiver for the Jets, as the team's top two pass catchers, Brandon Marshall (56 REC, 744 YDs, 13.3 AVG, 3 TDs) and Qunicy Enunwa (47 REC, 682 YDs, 14.5 AVG, 4 TDs), are both questionable. RB Bilal Powell (78 ATT, 456 YDs, 5.8 AVG, 2 TDs) is having a solid year while Matt Forte (214 ATT, 792 YDs, 3.7 AVG, 7 TDs) is the primary ground gainer. They stand to have a decent night if they can take advantage of the Fins' weak frontline.
The Dolphins are allowing on average 23.2 PPG. The big problem this D has relates to the running game. They've posted just 42 TFL and are giving up an average of 133.8 YPG to the rush attack. The Fins have posted 14 FF and have recovered eight. They've also picked 13 passes while defending 57. Sacks stand at 28. DE Cameron Wake (9.5 Sacks, 1 TFL, 4 FF) can create chaos for offenses, and LB Kiko Alonso (97 TCKLs, 5 TFL, 4 PD, 2 INT, 1 FF), who is questionable with a hamstring, is an all-around top defensive player. He's gathered in four fumbles. CB Byron Maxwell (15 PD, 2 INTs, 4 FF) can make game-changing plays.
Miami Dolphins Play New York Jets Week 15 NFL Pick
The weather for this game is predicted as being miserable. It's going to be around 45 degrees with showers and then more steady rain. The wind will be around 18 mph. The running game is favored here. Both teams bring a decent rush attack, but neither offers much of a defense against such. Moore has not played much this season. In fact, he's making his first start in five years. Thus, less than favorable conditions may put him at a disadvantage. However, Petty also has little experience.
Kicking could be important in this game. Miami placekicker Andrew Franks has been perfect on extra points but is 14 of 18 (78%) on field goals. He's had trouble from 40-plus and has missed two from between 20 and 29 yards. For New York, Nick Folk is 20 of 22 on extra points and 21 of 24 for field goals. He's made two of four from 50-plus.
Our Miami Dolphins play New York Jets week 15 NFL pick has the Fins at -2.0. We're going with Miami in this game, as we feel they are a tad healthier overall and offer more experience. They also tend to excel against clubs like the Jets.
Game day is Saturday, Dec. 17. Kickoff is at 8:25 at MetLife Stadium.
Miami Dolphins Play New York Jets Week 15 NFL Pick: Miami at -2.0