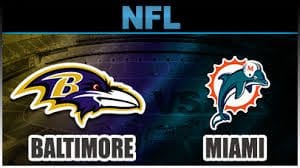 This is an interesting game to say the least, as our Miami Dolphins play Baltimore Ravens NFL free pick offers a surging club, the Dolphins, versus a team that has played unevenly as of late, the Ravens. The Dolphins (7-4) are second in the AFC East and prime candidates for a wild card spot. The Ravens (6-5) are hanging onto first in the AFC North with the Steelers breathing down their necks.
Miami comes into this game with a six-game winning streak. It started with a 30-15 win against the Steelers. It continued with a 27-23 division win against the Jets. They then beat San Diego, Los Angeles, and San Francisco. A seventh straight win would put them in the driver's seat for a possible playoff spot. Their last four games are against the Cardinals, Jets, Bills, and Patriots.
The Ravens are 3-2 over their last five. They lost to the Jets 24-16 on Oct. 23. Then came two wins, 21-14 versus Pittsburgh and 28-7 against Cleveland. On Nov 20, they hit a bump when they met Dallas, losing 27-17. Their last game was a 19-14 win when they met the Bengals last week. Baltimore finishes up the season playing the Pats, Eagles, Steelers and Bengals.
Miami Offense vs. Ravens D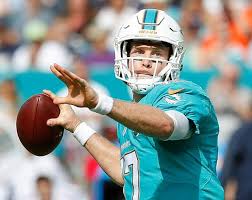 As of late, Miami QB Ryan Tannehill (66.0 COMP%, 15 TDs, 8 INTs, 26 Sacks) has been playing mistake-free football. Of the teams 340.0 yards of offense, 234.0 is in the air. Top receivers include Jarvis Landry (64 REC, 733 YDs, 11.5 AVG, 2 TDs) and Kenny Still (26 REC, 480 YDs, 18.5 AVG, 5 TDs). Wideout DeVante Parker, an important part of the offense, may not play due to back problems. RB Jay Ajayi (161 ATT, 846 YDs, 5.3 AVG, 7 TDs) has had some good games, but his output has slacked off over the last three games. The offense is averaging 22.6 PPG. However, over their six straight wins, they're averaging 26.8 PPG.
At 18.3 PPG, the Ravens are fourth in points allowed. They have 11 picks and 11 FF. In addition, the Baltimore D has 26 sacks, 34 TFL, and 48 PD. LB C,J, Mosely (51 TCKLs, 4 TFL, 3 INTs, 6 PD) and LB Terrell Suggs (8 Sacks, 2 TFL, 3 PD, 3 FF) are top performers. LB Zachary Orr (99 TCKLs, 6 TFL, 1 INTs, 2 PD), who has one forced fumble and two recoveries, leads the team in tackles.
Baltimore Offense vs. Dolphins D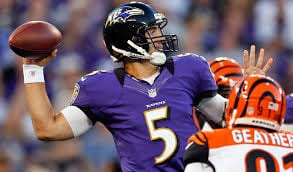 QB Joe Flacco (63.3 COMP%, 11 TDs, 10 INTs, 23 Sacks) runs one of the lowest scoring offenses in the NFL. At 19.8 PPG, the Ravens are 24th in points scored. His top receivers are wideouts Mike Wallace (51 REC, 792 YDs, 15.5 AVG, 4 TDs) and Steve Smith Sr. (48 REC, 536 YDs, 11.2 AVG, 3 TDs). RB Terrance West (153 ATT, 600 YDs, 3.9 AVG, 4 TDs) is the prime guy on the ground.
The Dolphin defense, which is allowing 21.8 PPG, has 10 interceptions and 11 forced fumbles. They've also posted 47 PD, 40 TFL, and 25 sacks. Top performing LB Kiko Alonso (90 TCKLs, 2 INTs, 4 PD, 1 FF), who has recovered four fumbles, is questionable today. Safety Isa Abdul-Quddus (59 TCKLs, 2 INTs, 4 PD) and DE Cameron Wake (8.5 Sacks, 3 FF) are major contributors on defense.
Miami Dolphins Play Baltimore Ravens NFL Free Pick
Here's the question in our Miami Dolphins play Baltimore Ravens NFL free pick, will a hot offense (Dolphins) penetrate a tough defense (Ravens)? The Miami defense is abut equal to Baltimore's, but their offense is much better. We like the Dolphins is this one at +3.5. The game starts at 1 p.m. ET.
Miami Dolphins Play Baltimore Ravens NFL Free Pick: Miami at +3.5