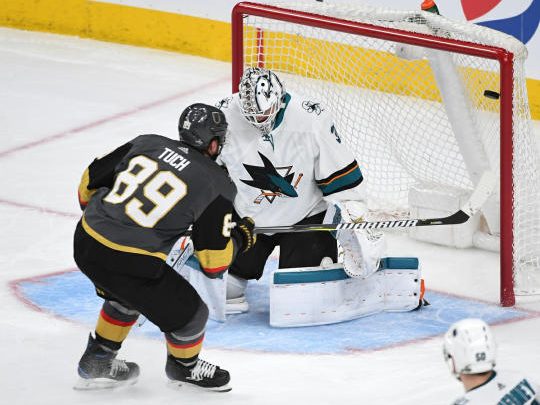 The Vegas Knights and San Jose Sharks have flip-flopped wins in every game so far in the Conference Semifinals. The Knights are up 3-2 with San Jose staring down elimination but since Vegas won the last contest 5-3, it would seemingly be the Sharks night tonight. Oddsmakers agree, setting San Jose as -145 favorites as they are on their home ice for the May 6th NHL playoffs free pick. That being said, the Knights did score a 4-3 OT win in Game 3 at the Shark Tank. Can they get another one on Sunday and punch their ticket to the Conference Finals?
Vegas Smells Blood in the Water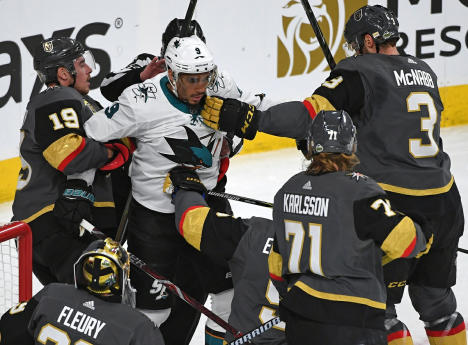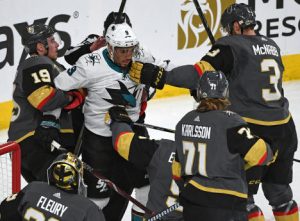 The Knights know that if not for a Game 2 trip up at home they'd be already waiting for the Nashville / Winnipeg winner. Vegas did bounce back nicely from that loss with a 3-4 OT win in Game 3 in San Jose however. That's the location the Knights find themselves in for the May 6th NHL free pick as +125 underdogs. Fans don't know what to expect from the Vegas offense tonight however as they were shut out 0-4 in Game 4 here at the SAP Center. The Golden Knights aren't a bad bet on Sunday with Jonathan Marchessault (8 points in the series), James Neal (5), and Alex Tuch (5) ready to go off and get their team into the Conference Finals.
If Vegas does net some pucks, it's going to be once again up to Marc-Andre Fleury to shut down an explosive San Jose offense. The Knights defense seems to have settled down a bit, allowing 64 total shots in Games 4 and 5 compared to 89 in Games 2 and 3. Regardless however, after a 7-0 shutout in Game 1, Fleury has surrendered 3+ goals in every game since although tonight's total is still set at just 5.5.
Sharks Aim to Force a Game 7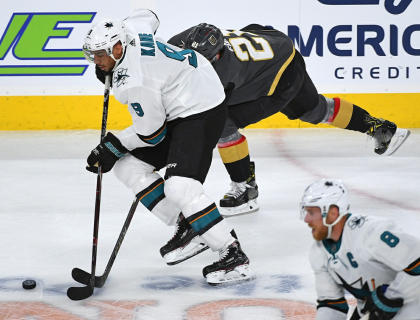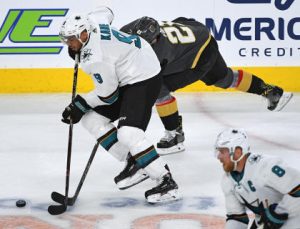 San Jose will ride Martin Jones into the May 6th NHL free pick as he stopped all 34 Vegas shots the last time he took the net on his home ice in Game 4. Jones was yanked in Game 1 after surrendering 5 goals on his first 18 shots but his performance is unpredictable tonight. The goaltender is 2-2-1 in the series despite not facing more than 34 shots in any game thus far. Vegas had the #5 scoring offense in the NHL and has scored 19 goals through the first 5 games of the series. If the Sharks want to cash in at -145 they'll need a huge performance from their net minder.
Of course San Jose can score the puck themselves. The Sharks were a top 10 team in SOG during the regular season and have peppered Fleury for the most part in this series. Tomas Hertl has scored a goal in three straight games in the series and Logan Couture has 5 assists in the last two contests. What San Jose really needs is something more from Joe Pavelski (3 points) and Evander Kane (1 point) if they want to salvage their season on Sunday.
May 6th NHL Free Pick Betting
The biggest question that needs to be asked ahead of tonight's contest is how much of a home ice advantage does San Jose really have tonight? The SJ -145 line is up from a -135 open although a slight majority of public bettors are backing the Knights. Vegas was a solid road team this season with a 22-14-5 record. San Jose was great at home as well though going 25-13-3. The Sharks are going to have a lot of chances tonight, and if they can get some production from Pavelski and Kane they should be able to force a Game 7 back in Sin City.
Free Pick: San Jose Sharks -145