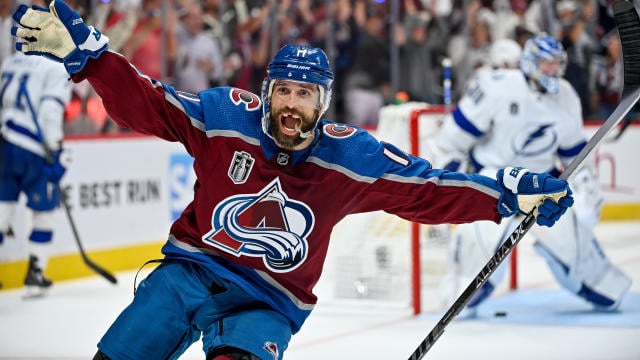 The 2022 NHL Stanley Cup Finals Game 3 betting matchup is a real series shifter. Colorado has raced out to a 2-0 lead with two victories at Ball Arena, but Tampa Bay was facing that same deficit in the Eastern Conference Finals before rattling off four straight wins.
If any team is not going to get rattled facing a hole, it's the 2X Stanley Cup champion Lightning. Then again Colorado looks like the premier team in the NHL right now, winners of seven straight in the postseason and posting a 7-0 record in road games these playoffs. Oddsmakers are calling game three a close one, posting both teams at -110.
Avalanche Looking for Knockout Punch
A win on Monday night doesn't clinch the Stanley Cup for the Avalanche, but at the same time only four teams have ever come back from a 0-3 deficit to win the series. It's going to be interesting to see if Colorado's offensive success in the first two games will travel to Amalie Arena, and if Darcy Kuemper can repeat his first two performances at home.
One of the big reasons Kuemper has had success the first two games of this series is because his defense is doing a great job of limiting the shot attempts in front of him. Kuemper made just 16 saves in the game two shutout and stopped 20 of 23 shots in the series opener – this all after missing most of the remainder of the series with Edmonton with an injury.
Of course another reason that Kuemper looks so poised through two outings is because he's gotten to play with the lead as Colorado has three goals in the first period in both games. Plus the Avalanche are getting production aside from their big names. Valeri Nichushkin leads Colorado in the postseason with three goals while Andre Burakovsky has added two.
Vasilevskiy Bounce Back
Tampa Bay goaltender Andrei Vasilevskiy is closing in on 100 career playoff starts, so he's well-versed to go against the uphill battle facing him the rest of this series. Vasilevskiy gave up 9 goals in falling down 0-2 to the Rangers last series, but allowed 2, 1, 1, and 1 over the last four games of the round.
Vasilevskiy allowed 7 goals on 30 shots in what was his 100th career playoff appearance on Saturday (95 starts) and that was without Colorado's front line of Nathan Mackinnon, Gabriel Landeskog, or Mikko Rantanen finding the back of the net. The veteran netminder should bounce back in the Stanley Cup Finals Game 3 betting matchup, but what if the Avs' trio gets on track too?
Tampa Bay is hoping that being back at home will inspire their offense, as Nikita Kucherov didn't even take a shot in game two while Brayden Point and Steven Stamkos had just one apiece. Ondrej Palat also didn't even attempt a single SOG even though he had scored in six of the previous eight this postseason.
Free Stanley Cup Game 3 Betting Pick
Does Tampa Bay bounce back on Monday night or is Colorado just that good? With the type of production the Avalanche are getting on their second and third line (as well as on defense) and with the potential that the Mackinnon-Landeskog-Rantanen line could bring the Avs' have some solid value in a toss-up game.
Free Pick: Colorado -110