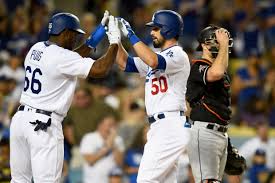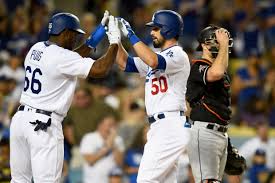 The Miami Marlins (14-27 Overall, 8-13 Away) play the third of their four-game series against the Los Angeles Dodgers (25-18 Overall, 15-6 Home) tonight at 10:10 p.m. E.T. The Dodgers won the first two games of what has become a contentious series. Last night, benches cleared after each team beaned a batter from the other team. Tonight's game could offer more of the same. Our Marlins play Dodgers 2017 MLB free pick has Miami at +169 and LA at -184. In the totals bet, which is 7.5, the over is -138 and under is +125.
The Marlins, who are 11 games out of first in the NL East and in last place, have lost five straight are 1-9 over their last 10 games. The Dodgers had lost three straight prior to going on what is now a three-game winning streak. They're in third-place in the NL West, just two games behind the Colorado Rockies. The Dodgers have won six of their last 10 games.
Pitching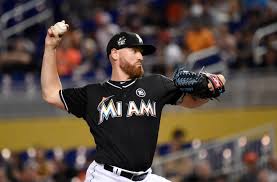 Marlins' righty Dan Straily (1-3, 3.56 ERA) makes his ninth start of the 2017 season. His record against the Dodgers is 0-1 over three games. He's had just one start against LA. His ERA against the Dodgers is 8.68. On May 15, which was the last time he pitched, Straily did not give up a run over five innings. He got no-decision in a game that Houston won 7-2. His one win came on April 11 against the Atlanta Braves.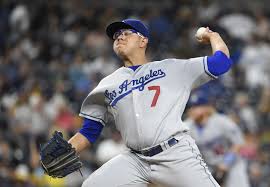 Lefty Julio Urias (0-1, 3.43) gets the start for Los Angeles. His last start, which was against the Colorado Rockies, was a rough one where he gave up six runs on seven hits over four innings. He is facing a team that has had a difficult time scoring runs. The Marlins 165 runs are the fourth fewest in the NL and their RS/RA differential of -45 is third worst in the league. Florida has scored just two runs in the two previous games against the Dodgers.
Hitting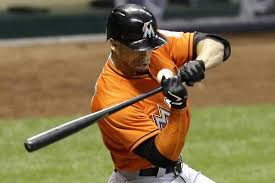 The Marlins have been hot and cold when it comes to hitting. Recently, the team has been very cold. It does not help that the team's top hitter, Miguel Rojas, is on the DL and won't be off of it for at least another week. J.T. Realmuto, who's hitting .309, has had a good week at the plate hitting .333. Marcell Ozuna. Ozuna, who's hitting .307, has also been hot, hitting .292. He tops the team in RBI with 29. Ozuna, Giancarlo Stanton, and Justin Bour have together hit 31 homers.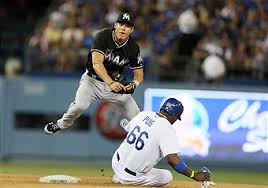 With a .379 BA, the Dodgers' Justin Turner is the top hitter in the majors. Cody Bellinger, who's hitting .291, leads the team in RBI with 23 and in homers with eight while Corey Seager comes to the plate tonight with six round trippers, 21 RBI, and a .294 BA. Chris Taylor (.346 BA) has been on a tear hitting .417 this past week. Los Angeles hitters have hit 89 doubles. This is a fine hitting team that has the pitching to backup a lead. They have been very hot as of late, and should have a good night at the plate tonight.
Marlins Play Dodgers 2017 MLB Free Pick
The Los Angeles Dodgers are hitting well while the Marlins are having a tough time creating any traction. If Urias can find the form he had in his first three games and shake off his outing versus the Rockies, the Dodgers have a good chance of winning. Our Marlins play Dodgers 2017 MLB free pick is Los Angeles at -184 and the under at +125.
Marlins Play Dodgers 2017 MLB Free Pick: LA at -184 and under 7.5 runs at +125