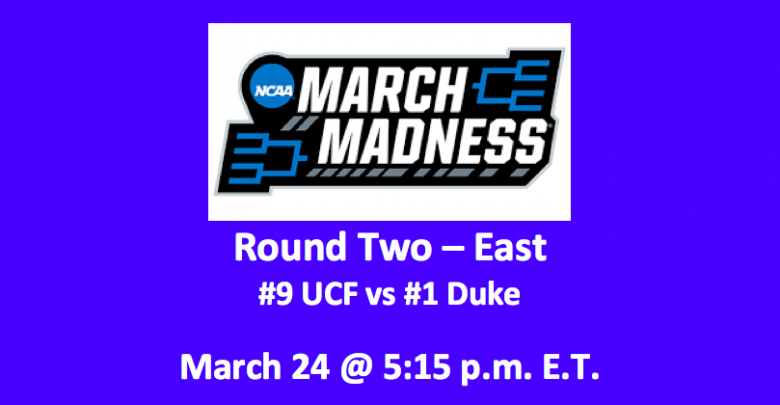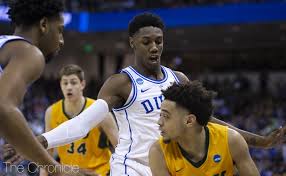 Our UCF vs Duke preview for this 2019 NCAA Tournament pick has the Blue Devils at -13.0. This Round Two contest will be played on Sunday, March 24. Tip off will be at 5:15 pm ET at the Colonial Life Arena in Columbia, SC. In this East Region game, the ninth-seed UCF Knights (24-8) must attempt to compete with the very tough first-seed Duke Blue Devils (30-5). In addition to being a first seed in March Madness, Duke is presently also ranked number one in the nation. The University of Central Florida is unranked.
UCF Knights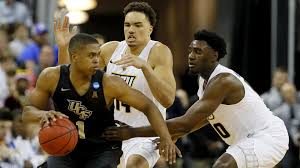 In the Round One game between the Knights and the VCU Rams, it was back and forth until there was about three minutes to go in the first half. At that point, UCF started to pull away, and once they did, there was no looking back. At the half, the Knights were up by 10 points, 34-24. In the second half, the Rams never even got close to UCF. The final score was UCF 73 and VCU 58. The Knights shot exceptionally well in that game, hitting 64.3% of their shots from downtown and 49.1% of their field goals. Plus, UCF was good on 72.7% of their free throws. They also out-rebounded the Rams 42 to 34 and managed to make six steals and block six shots.
Our UCF vs Duke preview observes that a major force on the court in the game against VCU was Knights' center Tacko Fall. Fall's double-double encompassed 13 points and 19 rebounds. He also blocked five shots. Guard B.J. Taylor led all UCF players in points with 15, while backcourt man Aubrey Dawkins accumulated 14 points, three assists, and seven rebounds.
Duke Blue Devils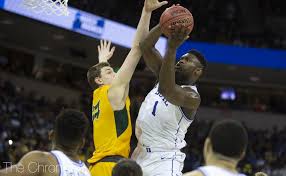 It was with about 1:40 left in the first period of their Round One game with the North Dakota State Bison that the Duke Blue Devils pulled away for good. By the end of the first half, Duke led 31-27. In the second half, the Blue Devils continuously expanded that lead, finally beating the Bison 85-62. Our UCF vs Duke preview finds that although the Blue Devils did poorly at the foul line, shooting just 64.7%, they were extraordinary in the field, hitting 50.8% of their shots. Duke also nailed 42.1% of their threes. The team grabbed 38 rebounds, made 14 assists, managed to complete six steals, and blocked seven shots. Duke turned the ball over just six times and fouled just 14 times.
The Blue Devils bring an amazing group of forwards to the court. Included is Zion Williamson, RJ Barrett, and Cam Reddish. In the game against NDS, Barrett had 26 points and 14 rebounds and Williamson was good for 25 points and three rebounds. Reddish accumulated 12 points, three assists, and four rebounds. Forward Javon DeLaurier scored just two points, but he made three blocks. At guard, Tre Jones had four assists, took in three rebounds, and scored five points.
NCAA Tournament Round One – UCF vs Duke Preview Pick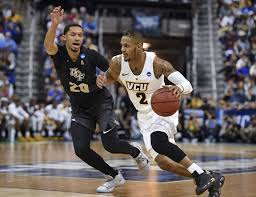 For UCF to have any shot in this game, they are going to have to come out with all cylinders pumping. Even then, it's tough to imagine the Knights hanging in with the Blue Devils for even one half. UCF has Fall in the paint, but that won't be enough. Our UCF vs Duke preview is going with the Blue Devils at -13.0.
Summary East Region, Round Two – UCF vs Duke Preview & Pick: Duke Blue Devils at -13.0