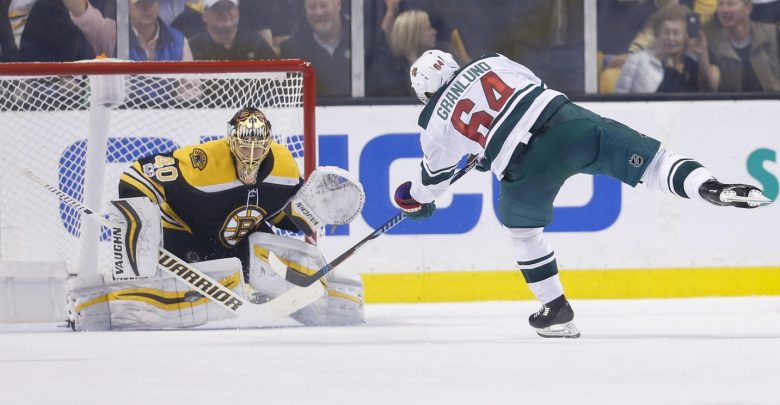 There's a very good matchup on the slate for the 3/25 NHL free pick as two teams headed for the postseason meet up at the XCel Energy Center. The Boston Bruins have a firm grasp on the 2 seed in the East and can make a run at the top spot as they are just 4 points back from the Lightning. The Wild need tonight's game too as their current 5th seed slot in the West would mean being the road team in the first round of the playoffs. Minnesota is just 3 points back from San Jose for the honors to host their projected opening series. Boston's injury sheet looks like a Marcel Proust novel but the Wild are playing on a back-to-back. Where's the edge?
Does Boston Get an Edge With Patrice Bergeron Returning?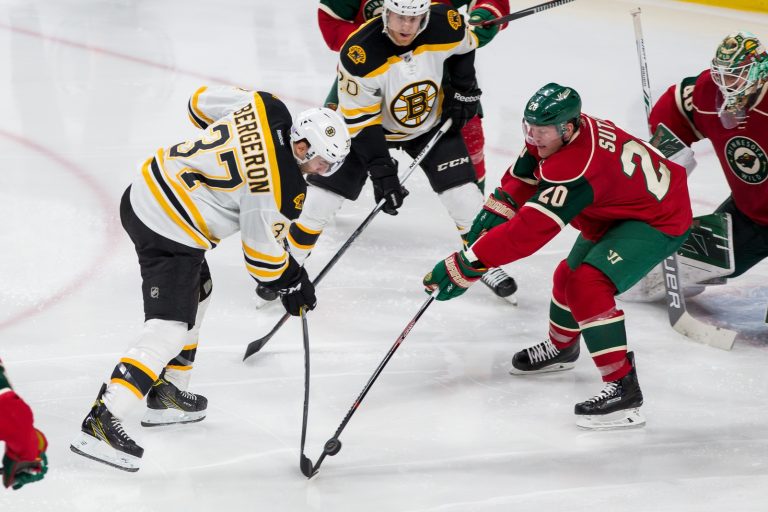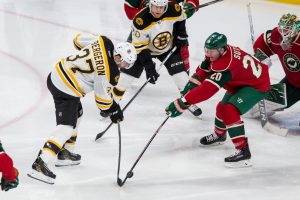 There's good news for Bruins fans as the laundry list of injured players may get shorter as veteran C Patrice Bergeron has been medically cleared to return from his foot injury. It's been a month to the day since Bergeron has last played though so there's bound to be some rink rust. Plus, that injury report still includes Zdeno Chara, David Backes, Rick Nash, Jake DeBrusk, as well as Charlie McAvoy and Torey Krug. The Bruins have found some balance in those players absences as they are 6-2-2 over their last 10 – but that's a lot of pressure for a very thin lineup.
The reason Boston has legitimate Stanley Cup expectations this year is because they've done so good even without all of those players. Brad Marchand is 16th in the league in scoring with 78 points while David Pastrnak has 8 points in his last 6 games. It would be easy for the Bruins to rest on their laurels with home ice in the first round of the playoffs imminent, but they came back from an 0-2 deficit in the 3rd to beat Dallas 3-2 on Friday night. Plus, for the 3/25 NHL free pick Tuukka Rask is back in net and he's gone 7-1 over his last 8 starts.
Is Minnesota Handcuffed By the Back-to-Back?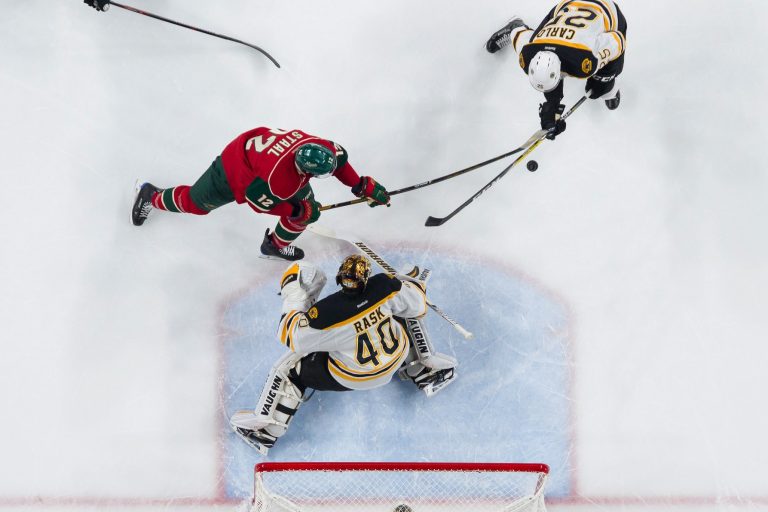 The Wild have had a pretty good run of it lately too as they are 6-3-1 over their last 10. Last night Minnesota looked great in beating the top seed in the West, Nashville, by a score of 4-1. That game came after four nights off, but it also means that Minnesota is scheduled with another great team in a back-to-back situation. Plus it also means the Wild are without their #1 goaltender Devan Dubnyk and will instead turn to hometown boy Alex Stalock who is 10-10-2 on the season.
Regardless of playing in a back-to-back, Minnesota always has a fighting chance as Eric Staal is fourth in the NHL in goals with 39. The Wild have scored 3+ in four straight games and their defense has held opponents to 2 or less in three of the last four. The Wild also have the benefit of being at home, where they are 25-6-6 on the season. Playing their second game in as many nights for the 3/25 NHL free pick isn't ideal, but the Wild are still a very popular bet.
3/25 NHL Free Pick Betting
Minnesota has been set as -110 favorites despite playing their 2nd game in as many nights. The Wild are 3-8 in their last 11 games on 0 days rest. That doesn't bode well considering Boston is getting healthier with Bergeron and possibly Torey Krug returning. The Bruins have Rask in net while Minnesota is forced to turn to a backup goaltender in this contest. It's not easy getting wins at the Xcel Energy Center, but the value is in the Bruins to do so tonight.
Free Pick: Boston Bruins -110