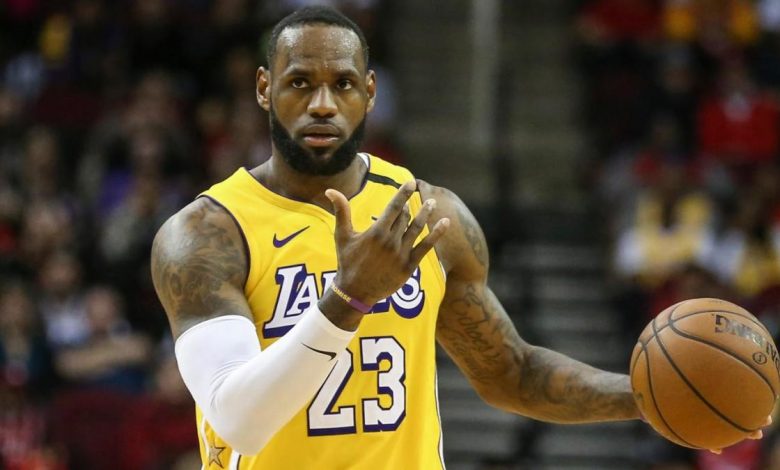 In a primetime matchup Saturday night, the Los Angeles Lakers (36-9) wrap up their East Coast swing when they go up against the Philadelphia 76ers (29-17). The Lakers have bounced back from an awful loss on Monday to win two straight, while the Sixers' four-game winning streak was snapped on Wednesday.
Here is a preview for Saturday night's game, along with odds and a free pick.
By The Numbers
We'll start with the Lakers, who are 8-2 in their last 10 games. Los Angeles is seventh in points per game with 114.0 but leads the league with a .484 field-goal percentage. Despite hitting only 11.1 threes per game, Los Angeles is still 10th with a .363 percentage from beyond the arc. The Lakers are also in the top 10 with 25.9 assists and 10.6 offensive rebounds.
Defensively, Los Angeles is also seventh, allowing 106.2 points per game. Teams are scoring against the Lakers on the fifth-lowest field goal percentage of .440, including 34.1 percent of their threes. As has been the case for much of the season, the Lakers are the league leaders in blocks with 7.3 and also average 8.6 steals, third in the NBA.
On the other side are the 76ers, winners in six of their last 10 games. Philadelphia is in the bottom third of the league in points scored, ranking 22nd with 108.4 points per game. But the 76ers are also a solid 10th with a .466 field-goal percentage.
While they're only 16th in both three-point percentage and offensive rebounding, Philadelphia averages the third-most assists per game with 26.4.
On defense, only Orlando allows fewer points per night than the Sixers. Philadelphia is second in the NBA with 105.1 points allowed, and also hold teams to the third-lowest average of 85.4 field goal attempts.
They're also first in three-pointers allowed with just 10 per game. Philadelphia is also eighth with 8.3 steals and seventh with 5.8 blocks.
Who To Watch
History is very likely to happen Saturday night for LeBron James, who needs just 18 points to pass Kobe Bryant and become the third-highest scorer in NBA history. James is coming off a 27-point, 12-rebound, 10-assist performance against the Nets, his 10th triple-double of the season.
He'll likely have another excellent game Saturday night, as will teammates Anthony Davis and Kyle Kuzma. Davis had 16 points and 11 rebounds on Thursday, his third game back from injury, while Kuzma added 16 points off the bench.
Without center Joel Embiid, Philadelphia has had to become a team that works around the perimeter. That will place a lot more importance on Tobias Harris, who has attempted 10 threes in each of the last two games and went 4-for-8 in the game before that.
He's shooting just under 36 percent from three this year as part of his 19.3 points per game. Look for Harris to get some additional help from Ben Simmons and Al Horford. While neither are three-point shooters, Simmons went for 17 points, 10 rebounds and eight assists on Wednesday, while Horford went for seven points, 10 rebounds and seven assists as well.
Odds And Pick
In this primetime fight between two teams with championship expectations, it's the Lakers who are the favorites on the road. Oddsmakers have Los Angeles -4, despite Philadelphia's sensational 20-2 record in its home arena this season.
This game could definitely depend on injuries. The Sixers will for sure be without Embiid and swingman Josh Richardson, but the Lakers could also be without Davis, center JaVale McGee, and point guard Ramon Rondo, all of whom are game-time decisions.
But as it stands now, I like the Lakers Saturday night. Philadelphia's injuries force it to play a type of game it's not comfortable with, one that's dependent on outside shooting.
Meanwhile, assuming Davis plays, Los Angeles will have a massive advantage down low, either setting him up for a big night or freeing up its plethora of shooters. Expect James to make history Saturday night and for the Lakers -4 to hand the 76ers their third loss at home.