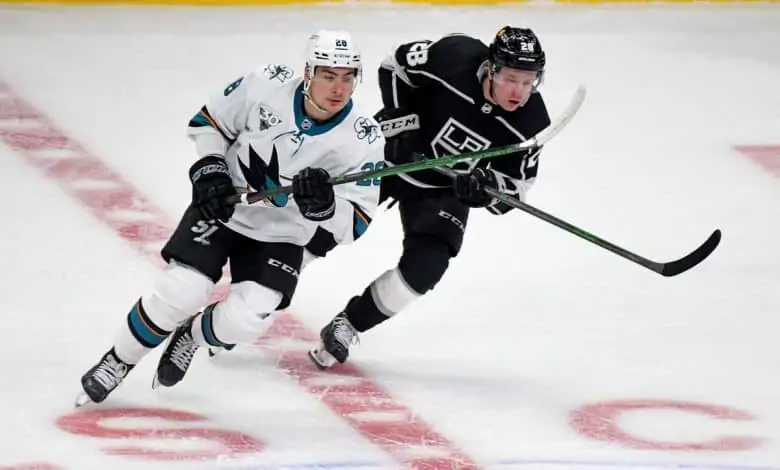 Two of California's three hockey teams are set to drop the puck Saturday night in San Jose. The Los Angeles Kings (15-18-6) and San Jose Sharks (18-17-4) are getting together for the eighth time this season, with the Sharks winning six of the previous seven matchups.
Here is a closer look at this matchup, from key stats to players you should watch. As it stands, San Jose is a -142 favorite at home, while L.A. is +120. Puck drop is at 10:30 P.M. Eastern.
By the Numbers
There isn't a sizable gap at all between these clubs when it comes to their scoring numbers. San Jose holds a slight 2.72 to 2.69 goals per game advantage, as well as a microscopic 30 to 29.9 shot advantage.
However, Los Angeles owns the advantage with the extra attacker, averaging a 21.5 percent success rate on the power play compared to San Jose's 17.6 percent.
Defensively, the Kings are better all-around. They rank 17th with 2.92 goals allowed per game on 31.2 shots, while the Sharks are bottom-five with both 3.26 goals allowed and 32.2 shots. And while San Jose does have a modest 80.3 penalty kill rate, L.A.'s 85.1 percent is the second-best in the NHL.
Players to Watch
For being a young team, the Kings are still relying on their veterans. The leader is center Anze Kopitar, who has a whopping 33 assists as part of his team-leading 41 points. A little ways behind him is defenseman Drew Doughty, who, after three points over his last three games, is up to 30 points on the year.
Right wing Dustin Brown has rediscovered his offensive abilities, leading the team with 15 goals. The two other players with double-digit goals are wingers Adrian Kempe and Alex Iafallo, each of whom has scored a goal in the last week.
As for the Sharks, their top scorers are veterans as well. This season's most prominent scorer has been left wing Evander Kane, who, after doubts whether he'd even play, has a team-high 16 goals and 19 assists. Kane holds a decent nine-point advantage over center and captain Logan Couture, who has assists in each of his last two games against L.A.
In addition to Kane and Couture, center Tomas Hertl and right wing Kevin Labanc have double-digit goals. Labanc, in particular, has been hot, riding a three-game point streak that includes a pair of goals against the Kings. Defenseman Brent Burns is also coming off of a three-assist performance on Friday.
Betting Pick
After San Jose's 5-2 beatdown on Friday, they will pivot from Martin Jones to Devan Dubnyk. Los Angeles will also change goalies, going from Cal Petersen to longtime netminder Jonathan Quick.
With each of these goalies struggling at times this season and teams tired from the night before, it wouldn't be crazy to expect to see a bunch of goals in this one. That would seem to favor the Sharks, who just have the Kings' number this season and have consistently found ways to beat them down. I'll roll with San Jose once again to get the win at home.
Betting Pick: San Jose Sharks (-142).