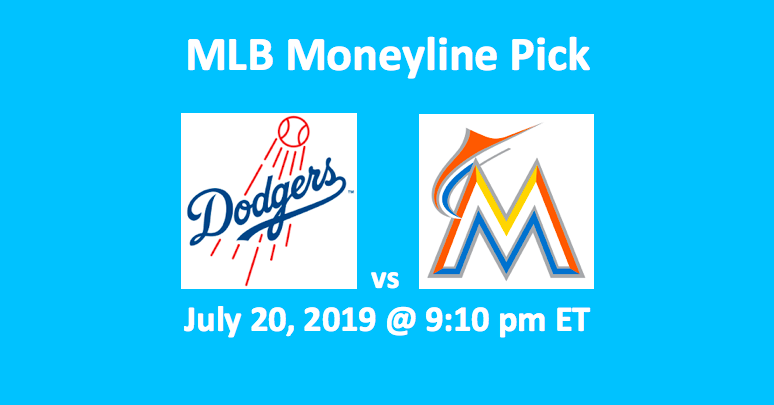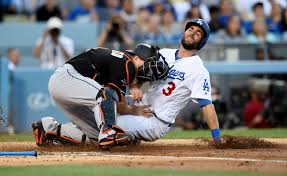 Our LA Dodgers vs Miami Marlins runline pick has the Dodgers at -142 (-1.5). The odds on this LA Dodgers vs Miami Marlins runline for the visiting Marlins are at +128 (+1.5). The moneyline offers LA at -300 and Miami at +275. If you're taking the Dodgers, the runline is the way to go. The game will be played at Dodger Stadium on Saturday, July 20, 2019 at 9:10pm ET. This is the second game of three in this series. LA won last night's contest 2-1. These two teams will meet again in mid-August in Miami for a three-game series.
The Miami Marlins (39-59 Overall, 18-27 Away) are last in the NL West, 21 games out of first and 13.5 away from a wild-card bid. Miami has lost four of their last 10 games. The first-place LA Dodgers (65-35 Overall, 38-12 Home) are 14 games ahead of second-place Arizona in the NL West. For their last 10 games, the team is 5-5.
LA Dodgers vs Miami Marlins Runline Pick- Pitching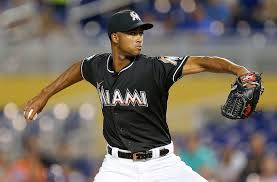 Right-hander Sandy Alcantara (4-9 W/L, 3.94 ERA, 1.43 WHIP) starts for the Marlins. Alcantara, who's lost his last three starts, gave up four runs on nine hits over six innings in his last start, which was against the Mets. In his last three starts, Alcantara has given up 12 runs and five homeruns over 17.2 IP. To be effective in this game, he'll need to have command of his 96mph four-seam fastball and ensure it sinks appropriately. His slider, when working, offers movement across two planes, while Alcantara's 95mph sinker, which has natural dropping action, can be tough to hit.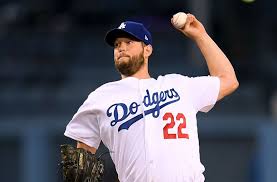 Lefty Clayton Kershaw (8-2 W/L, 3.00 ERA, 1.05 WHIP) utilizes a curve that has a tight bite and drops exceptionally low and a slower than usual fastball that comes with decent backspin. His 87mph slider is thrown hard and this low-lying pitch results in a high number of groundballs. From late April to the end of May, Kershaw won five-of-six starts and the Dodgers won all six of those games. In June and July, he's 3-2-3 and LA is 4-4. Kershaw is coming off a solid six-inning performance against Philadelphia. Kershaw pitched six innings, allowing one run on four hits while striking out seven and walking two.
Dodgers and Marlins – Stats
The Marlins are hitting .241, while opponents are batting .243. Miami has hit just 76 homers while they have allowed 115. On the other hand, the Dodgers are hitting .263 with 167 homeruns. Opponents are batting .223 against LA pitching and have put 120 balls over the wall.
Miguel Rojas, Brian Anderson, and Starlin Castro are the top offensive forces for the Marlins. Rojas leads the team with a .282 BA, while Anderson tops the Marlins in RBI with 44 and homers with 13. Castro's 95 hits are a best for this team. For the Dodgers, Cody Bellinger leads in just about every offensive category. He's hitting .333 and has 34 homeruns and 77 RBI. Max Muncy, who's batting .266, has smacked 25 homers and driven in 65 runs. Alex Verdugo (.304 BA) and Justin Turner (.294 BA) are having solid seasons at the plate.
Our LA Dodgers vs Miami Marlins Runline Pick
Our LA Dodgers vs Miami Marlins runline likes the home team in this one. Kershaw should keep Miami hitters at bay. We do expect the Dodgers to put some runs on the scoreboard today against Alcantara who has struggled.
Summary Runline Prediction – LA Dodgers vs Miami Marlins
LA Dodgers Runline -142 (-1.5)