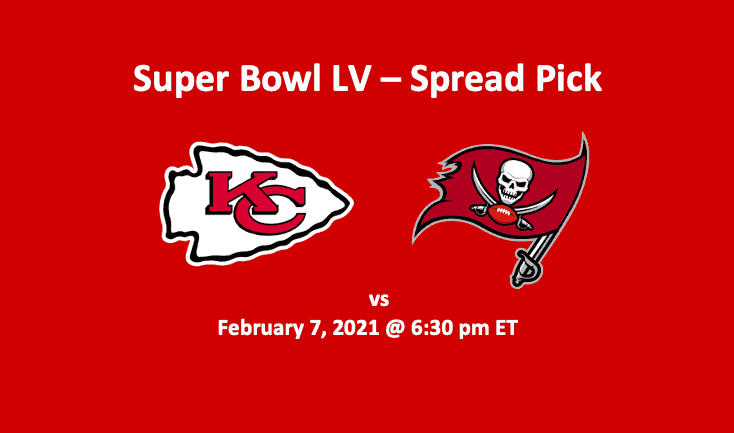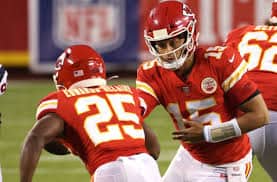 Our Kansas City vs Tampa Bay pick for Super Bowl LV notes that most, if not everyone, sees the Chiefs as sure bets. After all, not only do they have an overwhelming offense, but they also bring a potent defense to the big game. KC is looking to repeat as champs, while the Bucs play in the Super Bowl for just the second time in their 44-year history. The first and only other time Tampa Bay appeared in the championship game was in 2002 in Super Bowl XXXVII. They beat the Oakland Raiders easily 48-21.
The Chiefs are favored in the game at -3.0 (+100), while the best spread for the underdog Bucs is +3.5 (-125). This year Kansas City is 7-10-1 versus the spread. Tampa Bay comes in at 11-8 ATS. Note, the Chiefs are 16-2 overall, while the Buccaneers are 14-5. In the regular season, KC won their division and earned a playoff bye, while Tampa Bay secured a wild card spot finishing one game behind the first-place New Orleans Saints. Along with this betting preview, see Ryan's pick for Super Bowl LV.
Kansas City vs Tampa Bay Pick – Offenses
Kansas City quarterback Patrick Mahomes runs an offense that's generating 29.6 PPG. The Chiefs have averaged 312.8 passing yards per game and 112.4 rushing YPG. In the postseason, Mahomes has completed 73.5% of his passes, tossing four TDs and no picks. He's been sacked just once. He's also crossed the goal line once on the ground. The Chiefs offense includes a premium receiving group, with WR Tyreek Hill and TE Travis Kelce being top performers. Hill tops the Chiefs in receiving yards with 282, while Kelce has three TD catches and 227 yards. In the playoffs, Darrel Williams has been the team's leader on the ground, averaging 5.0 YPA and scoring one TD while accumulating 130 total ground yards.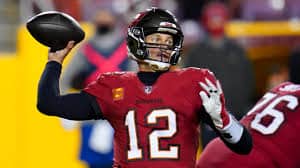 The Bucs have been good for 30.8 PPG, averaging 298.5 air-yards and 94.9 rushing-yards. In the postseason, Tom Brady has been inconsistent. Over three playoff games, he's completed 55.5% of his passes, throwing seven TDs and three picks. All of those picks were in the last game against the Packers. The veteran QB has been sacked five times. As he has throughout his career, Brady has spread the ball out amongst various pass catchers. Six different receivers have caught postseason TD passes and four are in double-digits in receptions. WR Mike Evans has 10 catches with two going for scores. RB Leonard Fournette has 14 receptions and one score. Fournette tops the team in rushing with 4.4 YPA, two scores, and 211 total yards.
Chiefs at Bucs – Defenses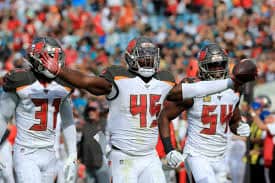 Our Kansas City vs Tampa Bay pick notes that the Chiefs are holding opponents to 20.5 PPG, while the Bucs are allowing 23.0 PPG. KC is giving up 120.5 YPG on the ground and 245.5 YPG in the air. Tampa Bay is allowing 280.7 passing yards and 85.7 rushing YPG. In the postseason, both team's defenses have played well. However, the Buc defense has reached a new level.
In two playoff games for KC, safety L'Jarius Sneed and DE Frank Clark have each recorded two sacks and three TFL. Safety Tyrann Mathieu has one of the two KC picks and one PD. He's tied with CBs Charvarius Ward and Bashaud Breeland with 13 total tackles.
For the Bucs, CB Sean Murphy-Bunting leads the team with three postseason picks and four PD. LB Devin White is tops with 26 total tackles and two fumble recoveries. He also has one pick, one PD, and one TFL. LB Shaquil Barrett has made three of the team's seven sacks while posting three TFL.
Super Bowl LV – Other factors
Here's a quick list of a few other factors:
Brady and Gronk – Brady unto himself is a major wild card. He's driven in a way he has not been for years, wanting to prove to the Pats through the Bucs that he still has it. Gronk has big-play potential when teamed up with Brady.
Distraction – Chiefs' OLB Coach Britt Reid: Reid, who a few days ago was in car crash that injured two children, leaving one with life-threatening injuries, will not be at the game. Reid, who is coach Andy Reid's son, may have been impaired while driving. He's had numerous brushes with the law in the past.
Mahomes – He's a massive playmaker and is never out of the game.
Distraction – Antonio Brown: the receiver is listed as questionable. The fact is who knows what's going on with the guy? He could be a huge factor or a big liability.
Home Field – Tampa Bay is at home for the game. There will be 25,000 fans. That helps.
Kansas City vs Tampa Bay Pick – Spread Pick
Our Kansas City vs Tampa Bay pick notes that Tampa Bay's rush attack has been very effective in the postseason. They've used it successfully. KC has a tough time stopping the run. If the Bucs can establish the run, that will go a long way in helping Brady and the pass attack.
The Tampa Bay defense will need to contain Mahomes and company. That's not an easy task. However, the Tampa Bay D-coaches have done an excellent job scheming and players have been able to execute those schemes effectively. The Bucs are tough in the red zone. Mahomes won't be shut down, but he may be slowed down. Especially if the Buccaneers can use the running game to control time of possession, giving their D much-needed breaks. In this game, second-half adjustments will be a major factor. With all of these observations in mind we are taking Tampa Bay at +3.5.
Super Bowl LV – Kansas City Chiefs vs Tampa Bay Buccaneers – Summary
Point Spread Pick – Tampa Bay Buccaneers at +3.5 (-125)