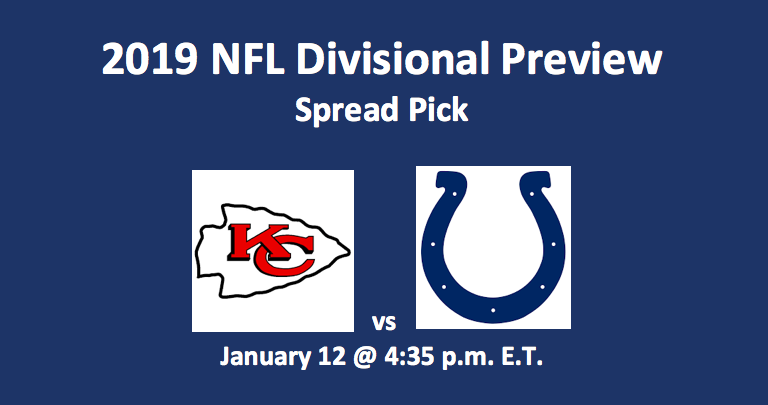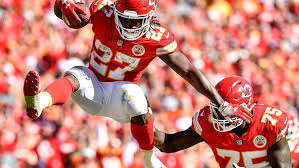 The first of four divisional games to be played this weekend will kick off at 4:35 pm ET at Arrowhead Stadium in Kansas City, MO. The contest features the top finishers in the AFC West, the Kansas City Chiefs (12-4), hosting the AFC South wild card team, the Indianapolis Colts (10-6). Our 2019 NFL divisional playoff preview Kansas City vs Indianapolis pick has the Chiefs at -5.0.
History is on Indy's side in this game. In the NFL playoffs, the Colts and Chiefs have met four times. Every time, Indianapolis has come out on top. Only one game was close. In their last 10 meetings, the Colts are 7-3. Coming into this game, Indy has been very hot, winning five-of-six games. Over that same span of time, the Chiefs have gone three-and-three.
QB-to-QB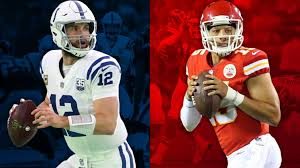 In our NFL Kansas City vs Indianapolis pick, you've got veteran quarterback Andrew Luck coming up against neophyte sensation Patrick Mahomes. The two preceding seasons, Luck played seven and 15 games respectively. This season, he's been in it for all 16 contests. A healthy Luck has helped the Colts a lot. Luck passed for close to 4,600 yards this season, hitting pay dirt 39 times while tossing 15 picks. The Colt QB completed 67.3% of his passes. Luck was sacked just 18 times. He has a full suite of receivers at his disposal and four have 50-plus receptions each and a total of 23 TD catches.
Mahomes has had a great season, completing 66.0% of his passes and throwing 50 TD passes and just 12 picks. He has been sacked 26 times. Mahomes, an able runner, is averaging 4.5 yards per rush. WR Tyreek Hill and TE Travis Kelce are his primary targets. Hill had 87 receptions with a dozen going for scores and Kelce 108 catches with 10 resulting in touchdowns.
The Colts get points for experience and depth. The Chiefs earn kudos for individual athleticism and their up-tempo play. Which will prevail is tough to say. We're calling this a no-win for either side.
Edge: Even
Defense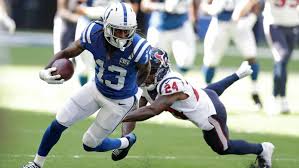 In creating our NFL 2019 Divisional Playoff preview, we found that defense has the potential to be a difference-maker. Indy is holding opponents to 21.5 PPG, while the Chiefs are giving up 26.3 PPG. Last week, the Colts held the Texans to seven points. Houston had been averaging 25.1 PPG.
In the ground game, Indianapolis is holding teams to 101.6 YPG, while Kansas City is allowing opponents 132.1 YPG. Colts passing defense allowed 237.8 YPG, while the Chiefs gave up 272.4 YPG. The Colts' containment of offenses is a step above the Chiefs'.
The Chiefs do have some solid defensive weapons. They led the NFL in sacks with 52. The Colts had 38. But that one statistic is the only area when the Chiefs far exceed the Colts. And last week against the Texans, who in the regular season has 43 sacks, the Colts were able to neutralize that aspect of their game. Overall, the two teams are fairly even in picks, passes defended, and forced fumbles. The Colts do dominate in TFL, 108-to-89.5.
Edge: Indianapolis
Five Keys to this NFL Divisional Playoff
For our Kansas City vs Indianapolis pick, we've come up with the following keys to the game.
Ground attack – Colts' Mack (4.7 YPA, 9 TDs) vs KC's Kareem Hunt (4.6 YPA, 7 TDs) could be a major factor in this game
Offense KC 35.3 PPG – Indy 27.1 PPG putting KC at +8.2
Defense KC 26.3 PPG – Indy 21.5 PPG putting Indy at -4.8
PF/PA = Chiefs have 3.4-point edge with spread at 5.0
Indianapolis depth will benefit them
Kansas City explosiveness could turn game
Edge: Indianapolis
NFL 2019 Divisional Playoff Preview
Kansas City vs Indianapolis Pick
I'm not a big believer in past games influencing present matchups. It's true that Indy has dominated KC in the postseason. But our NFL 2019 Divisional Playoff preview is concerned with the here and now. Still, in creating our Kansas City vs Indianapolis pick, it does look like the Colts will be a worthy opponent today. Ironically, despite the fact that we have two very productive offenses on the field today, defense could be the key. If that is the case, then the Colts have the advantage. Our Kansas City vs Indianapolis pick is the Chiefs at +5.0.
As well as posting this NFL 2019 Divisional Playoff preview and point spread pick, we've got the over/under on this game. Be sure to take a look.
Summary Kansas City vs Indianapolis Pick- Indianapolis Colts at +5.0