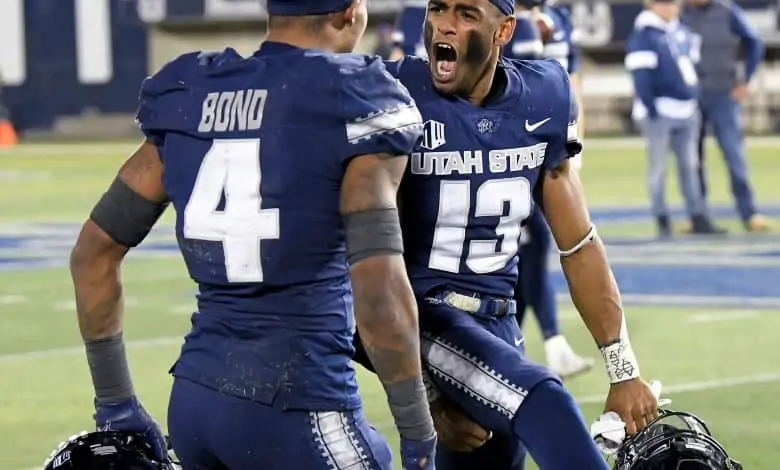 9-3 Utah State and 11-1 San Diego State meet up Saturday afternoon in the 2021 Mountain West Championship Game betting matchup. It's been a little absence since either team last played for a conference title, Utah State in the first MWC Championship Game in 2013 and San Diego State in 2016.
SDSU is aiming for their third conference championship as well as another historic 12 win season, which would be their fourth since moving to Division 1. Utah State's 2013 berth in the championship game was their first and only, losing 24-17 to Derek Carr and Fresno State.
Utah State's Offense Gives Them a Chance
Utah State brings the #15 passing offense in the entire country into the 2021 Mountain West championship game betting matchup, giving them some value as +6 point underdogs. That's somewhat impressive considering coach Blake Anderson is in his first year in the program, but he did get a boost when 5th year junior QB Logan Bonner came over with Anderson from Arkansas State.
Bonner threw for 1,863 yards with 18 TD and 6 INT last year with the Red Wolves, but he's upped his numbers against better competition (and an extra year of experience) with 3,236 yards to go with 32 TD and 10 INT. Bonner's favorite target is obviously All-MWC selection Deven Thompkins, who is second in the country with 1,543 receiving yards. Derek Wright also has 10 TD grabs on the year.
For as good as the Utah State offense is, they've still got a challenge on Saturday afternoon against an Aztecs defense that led the Mountain West in scoring defense (17.3), and rush defense (78.7 ypg). USU had the #2 total offense in the conference mainly because they can run the ball behind the productive duo of Calvin Tyler, Jr. (723 yards) and Elelyon Noa (546 yards).
All on the SDSU Defense
San Diego State's defense bares a heavy burden on Saturday, not just because Utah State is so potent but because the Aztecs' own offense doesn't give them a ton of help. Make no mistake it's been a formula that has worked for Brady Hoke's 11-1 team.
It's also not like San Diego State can't score at all, their 27.7 points/game are 7th in the MWC. Greg Bell has ran for 947 yards on the year, but has just 8 TD in 12 games and has just one game over 100 yards in the last seven. SDSU has also flip-flopped QBs all season long, with Lucas Johnson throwing for 3 TDs in the win over UNLV but Jordan Brookshire coming into help get the win over Boise State last week. Johnson is questionable with a knee injury for the Championship game.
San Diego State has a 33-31 OT win over Pac-12 Champion Utah this season, and since then they've allowed more than 21 points to just one team, Fresno State in the 30-20 week 9 loss. Utah State has scored 35+ in four of the last five though.
2021 Mountain West Championship Game Betting Pick
Something's got to give in this classic offense vs. defense matchup. San Diego State's defense has been very good this year, but the passing attack from USU is on another level. The Aztecs don't have the offense to keep up if the Aggies can get going, so taking the points looks to be the way to go even though a jump from +3.5 to +6 raises some eyebrows.
Utah State 31 – San Diego State 21
Free Pick: Utah State +6