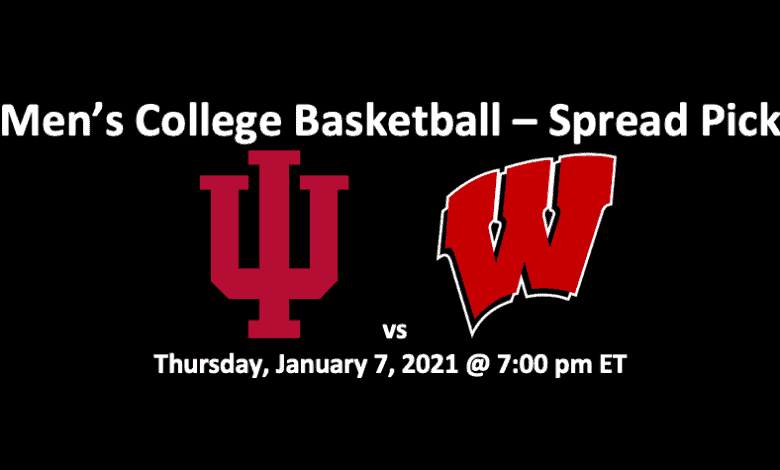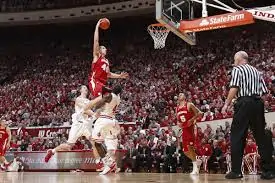 Our Indiana vs Wisconsin pick has the Hoosiers, who are eighth in the Big Ten, at +8.0 (-105). On the other hand, the Badgers, who are third in the conference, are favored at -8.0 (-104). Indiana is 2-2 in the Big Ten and 7-4 overall. Also, they are 7-4 versus the spread. On the other hand, Wisconsin is 3-1 in the conference. Their combined nonconference and conference record is 9-2. Finally, ATS, the Badgers are 6-5. These two teams meet on Thursday, January 7, 2021 at 7:00 pm ET. This contest will be played on Wisconsin's court, the Kohl Center in Madison, WI. Also, check out our total prediction for this Big Ten game.
Indiana vs Wisconsin Pick – Stats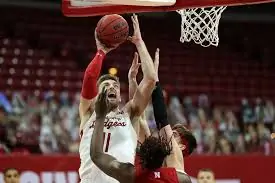 The Hoosiers are averaging 71.8 PPG, while the Badgers are good for 76.2 PPG. On the other side of the court, Indiana is holding opponents to 64.5 PPG. As a result, they have a PF/PA differential of +7.3. In terms of points allowed, Wisconsin is giving up 60.5 PPG. Accordingly, the Badgers are +15.7 in differential. Overall, the home team Badgers hold an edge over Indiana of 8.4 points.
Comparing other stats, these two basketball teams are fairly close. The Hoosiers are completing 45.8% of their shots, grabbing 35.1 RPG, and dishing off 14.1 APG. In comparison, Wisconsin is averaging 46.7 FG%, 34.6 RPG, and 14.5 APG. Additionally, Indiana is averaging 5.0 BPG and 5.6 SPG, while Wisconsin has been good for 4.4 BPG and 5.0 SPG. The Badgers do hold huge edges in three-point and free-throw success rates. Wisconsin brings a 41.4 3PT% and 74.9 FT%, while Indiana has a 32.7 3PT% and 68.7 FT%. As a result, the Badgers possess the potential to cover the spread based on these two stats.
Mountaineers vs Badgers – Players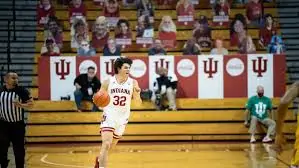 In the paint, Indiana forward Trayce Jackson-Davis is averaging 20.3 PPG and 8.9 RPG. He's a 53.1% shooter. Also, upfront, Race Thompson is averaging 9.8 PPG and 6.9 RPG. Thompson is a 57.6% shooter. In the backcourt, Armaan Franklin has a solid shot, hitting 49.5% of his field goals and 47.6% of his threes while averaging 12.7 PPG. Guard Al Durham tops the team in assists with 3.2 PG and is third in points with 10.1 PG. However, our Indiana vs Wisconsin pick observes that Durham is completing 38.2% of his field goals and only 28.9% of his threes. Guard Rob Phinisee, who's shooting percentages just about mirror those of Durham's, is averaging 6.9 PPG.
The Badgers feature five players who are averaging double-digit points. Guard D'Mitrik Trice tops the team with 14.2 PPG and 3.4 APG. He's shooting 45.1% from the field and 44.0% of his three-pointers. Also, in the backcourt, Brad Davison is averaging 10.1 PPG, 3.1 RPG, and 2.7 APG. He's a 43.2% shooter. In the paint, Micah Potter leads the team with 7.3 RPG. He's averaging 12.7 PPG. Additionally, Potter can hit from inside (51.1 FG%) and outside (44.8 3PT%). Forwards Aleem Ford and Nate Reuvers are each averaging 10.0 PPG and 3.1 RPG. Both are shooting in the mid-40s.
Indiana vs Wisconsin Pick – Final Word
Our Indiana vs Wisconsin pick finds that the Wisconsin point differential is fairly substantial. Plus, Wisconsin features a balanced attack and is much stronger than Indiana when it comes to threes and frees. Consequently, we find that the Badgers have a good shot at covering the spread. As a result, we're taking Wisconsin at -8.0 (-104).
Prediction Summary – Indiana Hoosiers vs Wisconsin Badgers
Point Spread Pick – Wisconsin Badgers at -8.0 (-104)