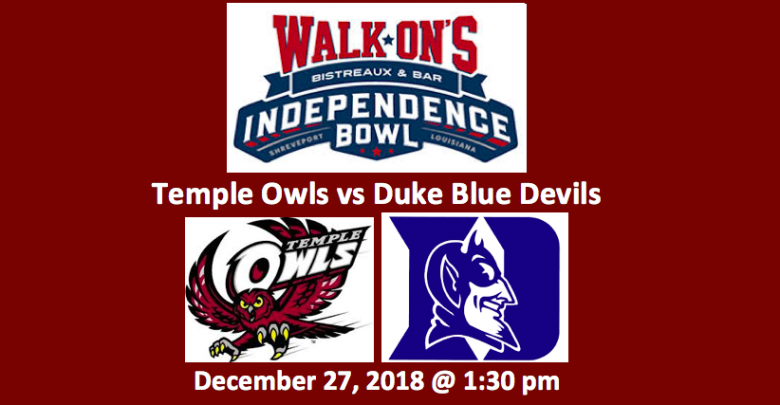 Our Independence Bowl free pick offers the Temple Owls (8-4, 2nd AAC – East) versus the Duke Blue Devils (7-5, 6th ACC – Coastal). The game will be played on Thursday, Dec. 27 at 1:30 pm ET. This bowl is played at Independence Stadium in Shreveport, LA. This is the first of three games being played today as we head into the huge college football bowl weekend. Our Independence Bowl free pick has the Temple Owls at -3.5. The over/under for this game ranges from 54.0 t0 55.0.
The Blue Devils started strong winning five of their first six games, including going 1-1 in conference play. But in the second half of the season, Duke was 4-2, including a 35-6 loss to #2 Clemson and a 59-7 loss in their final game to Wake Forest. Still, the Blue Devils had a season that was good enough to earn a bowl berth.
The Temple Owls started their season 3-3, which included two losses in their first two games. In their last six games, the team came on strong, winning all but one. That one loss was to #12 UCF 52-40. The week prior to that loss the Owls beat #20 Cincinnati 24-17. They ended the season with a three-game winning streak.
Duke – Analysis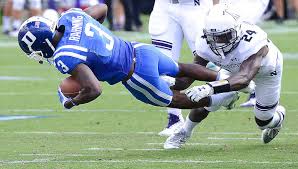 The Blue Devils are averaging 27.3 PPG. They have a ground game that's been yielding 162.7 YPG. Their air attack has been good for 229.9 YPG. Junior QB Daniel Jones (59.0 COMP%, 17 TDs, 7 INTs) has passed for over 2,200 yards this season. Although not an accomplished rusher, Jones does well enough. This season, he had 98 carries and two rushing scores while averaging 3.3 YPA. His roster of pass catchers includes five players with a minimum of 20 receptions each. T.J. Rhahming leads all receivers with 63 catches and six TDs. Our Independence Bowl free pick notes that sophomore RB Deon Jackson (151 ATT, 806 YDs, 7 TDs) is the team's leading rusher. He's averaging 5.3 YPA.
Defense
Although the points per game on offense are decent, Duke has a problem on offense. They are allowing opponents 27.4 PPG. The Blue Devils are giving up 419.2 of total offense to opponents. Included in that total are 222.3 YPG on the ground. They are also relinquishing 197.1 YPG in passing. Duke's 70-plus TFL are impressive. However, the frontline does tend to give up the big play. Our Independence Bowl free picks finds this team's pass D to be overall weak. They have defended just over 30 passes and made just three interceptions. Safety Michael Carter II, with six PD and one pick, is key in the secondary, while DE Victor Dimukeje, with 40 TKLs, 2.5 sacks, and 7.5 TFL, stands to be a force in front.
Temple – Analysis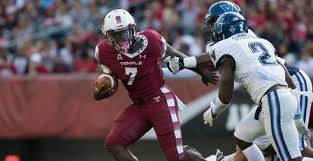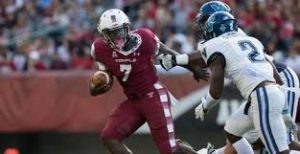 The Owls are scoring on average a healthy 35.6 PPG. Of their 420.3 YPG, 164.5 are rushing yards and 255.8 are passing. Our Independence Bowl free pick finds that this team offers a solid, balanced attack. Temple QB Anthony Russo, a sophomore, has had a good season. Russo did not play the final game of the season due to injury. There had been some questions regarding his health status for this bowl game, but in developing our Independence Bowl free pick, we could not find anything to indicate he would not be playing.
Russo tossed equal numbers of TD passes and picks, 13. He completed 57.9% of his passes. In this game, two wideouts should be on his target list, senior Ventell Bryant (47 REC, 14.0 YPC, 3 TDs) and sophomore Branden Mack (41 REC, 13.6 YPC, 5 TDs). Two other players have combined for seven TD catches. Overall, there's decent depth at wide receiver. Senior Ryquell Armstead (210 ATT, 1,098 YDs, 5.2 YPA, 13 TDs) can generate offense. He is the ground game for the Owls.
Defense
Overall, the Temple D has been good. They're holding teams to 24.7 PPG. They are very stingy with passing yards, giving up just 166.3 YPG. However, on the ground, the Owl defense is allowing 190.3 YPG. The team has made 30 sacks, grabbed 16 picks, and defended 52 passes. Plus, the Owls have forced 15 fumbles and recovered 12. They've also notched 70 TFL. Lineman Michael Dogbe leads the team with three FF, 7.0 sacks, and 12.5 TFL. Safety Delvon Randall (78 TCKLs, 3 INTs, 6 PD, 2 FF) and corner Rock Ya-Sin (47 TKLs, 2 TFL, 2 INTs, 12 PD) are major enforcers in the secondary.
Five Keys to the Game
Duke D stepping up
Temple passing game succeeding
Efficacy of Duke rush attack
Owl D-line controlling scrimmage
Performance of both QBs
Our Independence Bowl Free Pick
Our Independence Bowl free pick is first taking the under at 55.0. We think the Temple offense will create a lot of scoring chances in this game and capitalize. At the same time, the Owl D will play well, but Duke will convert most likely on only two scoring possibilities, making for a score of around 36-14. With that scenario, we're betting on Temple at -3.5. Don't forget that we have every 2018 bowl spread and totals pick right here! Just follow the appropriate link. Our bowl schedule page is updated daily.
Summary Temple Owls vs Duke Blue Devils Summary – Temple at -3.5 and under 55.0