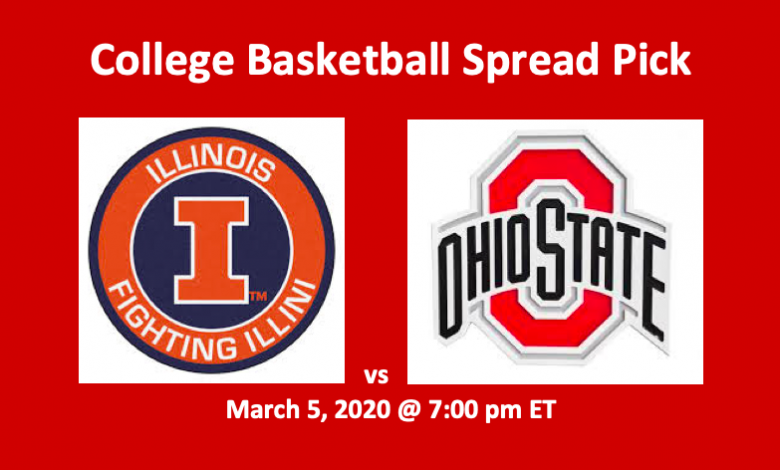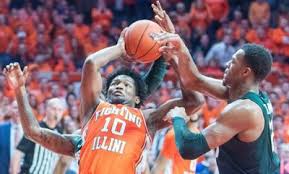 Our Illinois vs Ohio State pick favors the #19 Buckeyes by 5.5 points. This Illinois vs Ohio State prediction for the game being played Thursday, March 5, 2020 at 7:00 pm ET, notes that the #23 Illinois Fighting Illini (20-19 Overall, 12-6 Big Ten) are one of eight nationally ranked Big Ten teams. They are fourth in the conference sitting one-half game behind three teams that are tied for first. The #19 Ohio State Buckeyes (20-9 Overall, 10-8 Big Ten), who are seventh in the Big Ten, are 2.5 games away from first. The three top teams in the conference are Maryland, Wisconsin, and Michigan State. This Illinois vs Ohio State game will be played at the Value City Arena in Columbus, Ohio.
Illinois vs Ohio State Pick – Recent Performance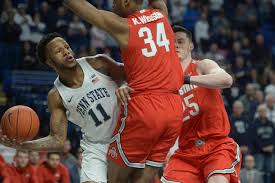 The Fighting Illini have won their last four games, including a 62-56 win over #9 Penn State on February 18. Prior to that Illinois has lost four games straight. That skid came after the team notched seven wins in a row. Against top-25 clubs, the Fighting Illini are 2-6. The other win against a nationally-ranked team came on December 11 when they beat #5 Michigan 71-62.
OSU has won five of its last six games. In those half-dozen games, the Buckeyes were 2-1 versus nationally-ranked schools. Their one loss in that stretch was versus #20 Iowa 85-76. That game was played February 20. On February 23, Ohio State took down #7 Maryland 79-72, and on March 1, they beat #19 Michigan 77-63. This season, the Buckeyes are 4-4 versus top-25 teams.
Fighting Illini at Buckeyes – Stats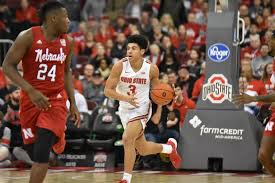 In our Illinois vs Ohio State pick, both teams are averaging just over 72 PPG and both are hitting just under 45% of their field goals. The two teams are also fairly even on assists with 13 per contest and steals, averaging almost five in each outing. The Fighting Illini lead in rebounds per game (40.1 to 37.0) while OSU is better in points allowed (62.3 PG to 64.7 PG) and blocks (3.6 PG to 2.9 PG). Ohio State has a major advantage in three-pointers (37.8% to 31.2%) and a bit of an edge when shooting from the charity stripe (74.4% to 72.8%).
Player and Roster Assessment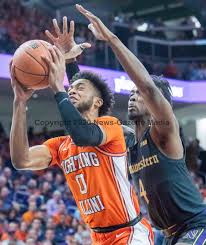 Four of Illinois top five scorers are in the backcourt, including their top point-maker Ayo Dosunmu. Dosunmu, who's completing 48% of his field goals, is averaging 16.4 PPG. He's also good for 3.1 APG and 4.2 RPG. Guard Andres Feliz is also hitting for double digits averaging 10.9 PPG. The 46.5% shooter is also hauling in 5.0 RPG while dishing off 3.0 APG. Freshman center Kofi Cockburn is good for 13.6 PPG and 9.0 APG. He's completing 53.1% of his field goal attempts.
Three guards and two forwards are responsible for the majority of OSU's points. Forward Kaleb Wesson is the team's top scorer upfront with 14.0 PPG while guard Duane Washington Jr. is second in points with 11.4 per game. Wesson, a 44.4% shooter from the field and 43.0% shooter from downtown, is also averaging 9.6 RPG. Washington is good on 41% of his shots and 40% of his three-point attempts. Also in front, Andre Wesson is good for 9.3 PPG. He's a solid 46.9% shooter on field goals while posting a 44.3% three-point rate. Two guards, D.J. Carton and C.J. Walker are averaging 3.0 and 3.5 APG respectively. Carton is scoring 10.4 PPG and Walker 8.3.
Our Illinois vs Ohio State Pick
The Buckeyes are at -5.5. We find that OSU is deeper and more accomplished from long-range than the Fighting Illini. We do expect Ohio State to keep their winning streak alive and to cover. Our Illinois vs Ohio State pick is the Buckeyes are -5.5.
#23 Illinois Fighting Illini vs #19 Ohio State Buckeyes Prediction – Summary
#19 Ohio State at -5.5