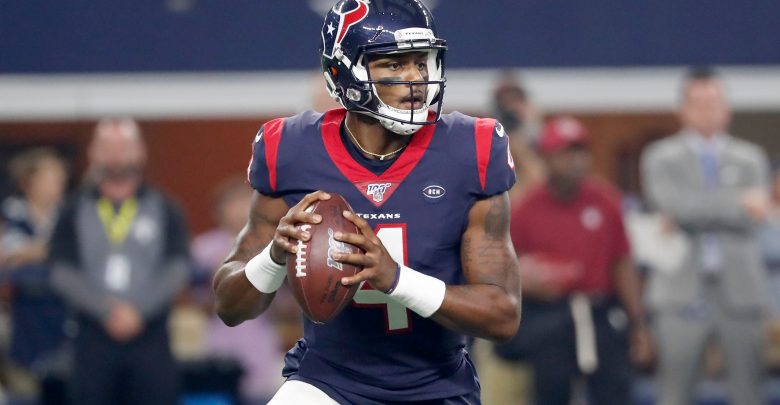 The Houston Texans look to stay in first place in the AFC South when they travel west to face the Los Angeles Chargers on Sunday afternoon. Houston is 1-1 on the season and currently tied with Indianapolis for the top spot in the division, while the Chargers are also 1-1 and hoping to bounce back from an ugly loss at Detroit.
The Texans could very well be either 0-2 or 2-0, considering their first two games were decided by a total of three points. The Chargers have also played a couple of close games, topping the Colts in overtime in their opener before falling 13-10 to the Lions last weekend.
The moneyline for this contest has the Houston Texans +150 and the Los Angeles Chargers -170. The Chargers are favored by three points at home, while the over/under has been set at 48.5.
Hot And Cold
The Texans have shown signs of an explosive offense in their first two games, but they haven't been able to keep it going for a full 60 minutes. Quarterback Deshaun Watson has been solid thus far, passing for 427 yards and three touchdowns, but the Texans are only averaging 366.5 yards and 20.5 points through two weeks. Carlos Hyde (173 yards) and Duke Johnson (88 yards) are a solid 1-2 punch in the backfield, helping Houston rank fifth in the league in rushing yards per game at 153.
It's been the Texans' defense that has let the team down, with New Orleans being able to drive for a game-winning field goal in Week 1 and Jacksonville getting a touchdown to pull within a point late in Week 2 before failing to convert a go-ahead two-point conversion try. Houston has forced just two turnovers and five sacks through two games, with linebacker Whitney Mercilus accounting for three of those sacks. One player the Texans could use more from is J.J. Watt, who has a total of two tackles and no sacks and may be feeling the absence of Jadeveon Clowney — traded to Seattle — more than anyone.
Missed Opportunities
In a three-point loss, a lot of plays can be looked back on as the difference in the game, but two missed field goals certainly stand out more than most. Ty Long was just 1 of 3 on field-goal attempts against Detroit, and he will likely be the Chargers' placekicker again with Michael Badgley still out injured. Injuries are nothing new for the Chargers, who are also dealing with the loss of tight end Hunter Henry.
In a week when his fellow 2004 first-round quarterbacks were sidelined by injury (Ben Roethlisberger) and benching (Eli Manning), Philip Rivers continues to be a rock for the Chargers. The 37-year-old has passed for 626 yards and three touchdowns, completing 65.7 percent of his passes through two games. Of course, the Chargers' offense has become more of a short passing game, with Keenan Allen and Austin Ekeler leading the way with 16 and 12 receptions, respectively. Those two are each averaging fewer than 14 yards per catch, though, as the Chargers are unable to go deep with any type of consistency.
Houston Gets Win
Both of these teams can get hot offensively and put a lot of points on the board. Both are also playoff teams from a season ago that know that wins are as important in September as they are in December, so look for a lot of intensity in this game. Although I like the Chargers to repeat as a playoff team, I really like the Texans and their offense. I'm taking Houston +3 to get the road win.