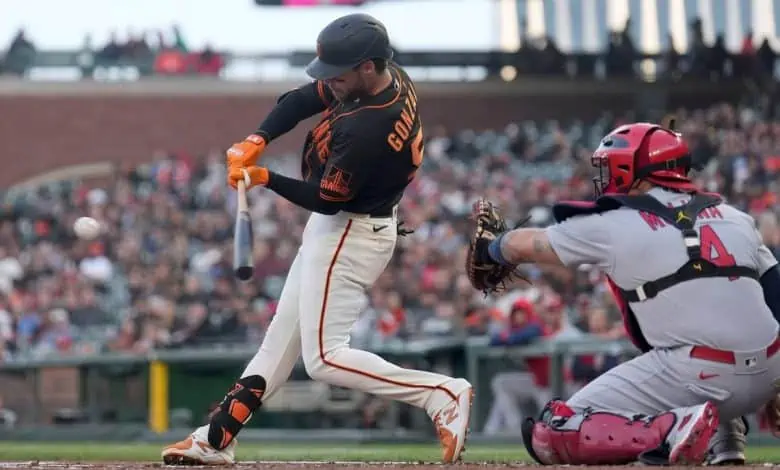 It's time to look at the sentimental angle in the May 7th Cardinals at Giants betting matchup. It's Buster Posey day at Oracle Park, celebrating the legendary catcher's career after he retired in the offseason even after hitting .304 and making his 7th all-star game.
The Giants are -135 favorites as they try to avoid getting upset on what is a special day for the fans, but St. Louis has also taken the first two games of this series 7-1 and 3-2. The Giants have now dropped 5 straight and 7 of their last 8, providing very good value on the Cardinals at -115 in this spot.
Successful Trip for St. Louis
The Cardinals have already clinched a series split in their trip to the bay, but they want more heading into Saturday night's contest. St. Louis has rattled off three straight wins and are 7-3 in their last 10 although still has them 2.5 games back from the red hot Brewers who sit atop the NL Central.
While San Francisco will be celebrating an iconic catcher's career in Saturday's matchup, the Cardinals' Hall-of-Fame backstop is having a nice swan song of his own. Yadier Molina was 2-4 with a HR to help power St. Louis to a 7-1 win in the series opener. Molina sat out on Friday, but Harrison Bader provided the power surge with a 2-run HR.
Steven Matz (3-1, 4.56 ERA) is on the bump on Saturday with his road splits being much better than at home this year. The lefty is 2-0 with a 0.84 ERA in two outings away from Busch Stadium this season but 1-1 with a 7.62 ERA in two home starts.
Giants Try to Get the Sentimental Win
Posey was able to retire on his own terms at 34-years-old in the offseason, but he'll get his due tribute on Saturday night. While that's nice, the Giants are more concerned with stopping their five game skid that has helped them fall into 4th place in the NL West. San Francisco is still two games above .500 at 14-12 on the year.
The big issue for SF heading into the May 7th Cardinals at Giants betting matchup is finding some offense. San Francisco has been held to 2 runs or less in four straight games even though they are a top 10 scoring team in the majors this season (4.48). Brandon Crawford has gone 3-6 in his career vs. Matz however.
Logan Webb (3-1, 3.26 ERA) goes for the Giants in this matchup, allowing 3ER in each of his last 3 starts. He may want to lower that trend the way the San Francisco offense has been hitting lately but that may not be so easy with the St. Louis roster hitting a combined 12 for 36 against Webb.
Free May 7th Cardinals at Giants Betting Pick
The value has to be on St. Louis here. Matz has been great on the road and the Giants offense is trying to fight through a rut right now. Overall San Francisco has lost five straight and although that can't go on forever, it doesn't look like this matchup will be the night. St. Louis has hit Webb well as a team as well.
Free Pick: Cardinals -115