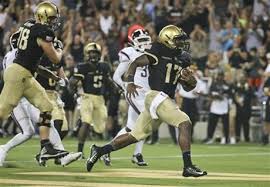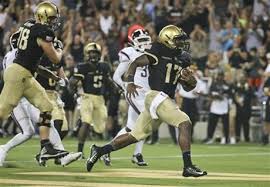 Our free college football week eight Saturday picks start with two noon kickoffs. We think both of these are good bets, and we actually like the favorites in each game. The first contest features the North Texas Mean Green (3-3) at the Army Black Knights (4-2). The Black Knights have been playing exceptionally well this season, winning more games than expected. The spread on this game has Army at -17.5.
The second contest we're considering offers the nationally ranked #10 Wisconsin Badgers (4-2) at the Iowa Hawkeyes (5-2). Although Iowa has the better record, we can't help but think that the Badgers are very enticing at -4.0. Iowa is not that good and Wisconsin is much better than their record indicates. See below to see how we thing these two free college football week eight Saturday picks will go.
North Texas at Army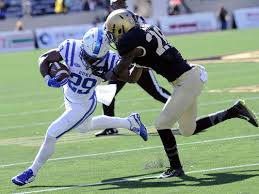 The North Texas Mean Green play the Army Black Knights at West Point. For North Texas, junior RB Jeffrey Wilson is tough to stop. In 93 attempts, he's run for 564 yards, averaging 6.1 YPA. Wilson has nine rushing TDs. Plus, he's caught 14 passes, averaging 6.1 YPC. Freshman QB Mason Fine (56.0 COMP%, 3 TDs, 1 INT) has been sacked 23 times. That's alarming, considering what he will face today, as
Army has a tough defense.
Army is allowing 14.0 PPG and under 65 YPG rushing. Their D should be good today against a Mean Green team that's scoring 25.8 PPG. On offense, the Black Knights ground game is unrelenting, as the team is averaging 366.2 YPG when they rush. Army has scored 24 touchdowns on the ground and four through the air. Look for the Knights to overwhelm North Texas with their rush attack.
Free College Football Week Eight Saturday Picks: Army at -17.5 for five units
Wisconsin Badgers at Iowa Hawkeyes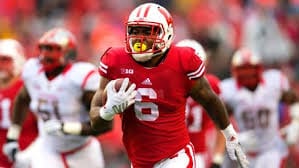 The #10 Wisconsin Badgers (4-2) visit the Iowa Hawkeyes (5-2) in a Big Ten conference game that is perplexing in some ways. The slightly underdog Hawkeyes come into this game with a better conference record, as they have gone 3-1 in the Big Ten, while the Badgers are 1-2.
Wisconsin lost their last two games both of which were to Big Ten teams. Last week they were beaten by #2 OSU in OT 30-23 and two weeks before they lost to #4 Michigan 14-7. On October 1, the Badgers beat #8 Michigan State 30-6.
In the Big Ten, the Hawkeyes have played the easier schedule, as a nationally ranked team has not as of yet tested them. Their one loss in the conference was to Northwestern 38-31, while Iowa has beaten Rutgers 14-7, Minnesota 14-7, and Purdue 49-35.
Here's the skinny on this one. Iowa will find themselves way over their heads when they play Wisconsin. This is their first major opponent and with the Badgers frustrations in conference play, they will work hard to ensure that they don't log their third straight conference loss. We feel that Wisconsin is much better than their record indicates and should be at -10 for this game. That makes them at -4.0 a great deal.
Free College Football Week Eight Saturday Picks: Wisconsin at -4 for four units